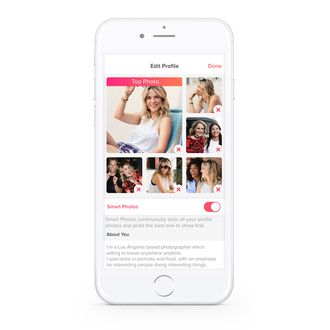 Starting today, Tinder is introducing a new feature that should help improve your dating game: an algorithm. (Because the tech, not you, is definitely the reason for your lack of matches.) Called Smart Photos, the app will now alternate the order in which potential matches are shown your pictures, which, Tinder says, "lets users maximize the potential of their first profile photo, the one seen by the most users."
In addition to changing up which photo is shown first, the new feature tracks which image garners the most swipes. That data is then used when the app selects which photo goes first. According to Tinder, "users saw up to a 12% increase in matches when using Smart Photos." (Which is small, but not insignificant.) The new feature also tracks data on your swiping habits, optimizing which pictures you are shown on other people's profiles based on images you've liked in the past.
From Tinder:
It's a machine learning system that gets smarter with more input, with the algorithm getting better each time a user is swiped on. When shuffling photos, the algorithm takes a photo's general popularity into account but also looks at the swiper's preferences. So if your profile photo with your cute dog has received more right-swipes overall, but the person swiping typically swipes left on photos with dogs in them, they wouldn't necessarily see the dog photo first.
"Machine learning system." Dating in 2016 is fun.