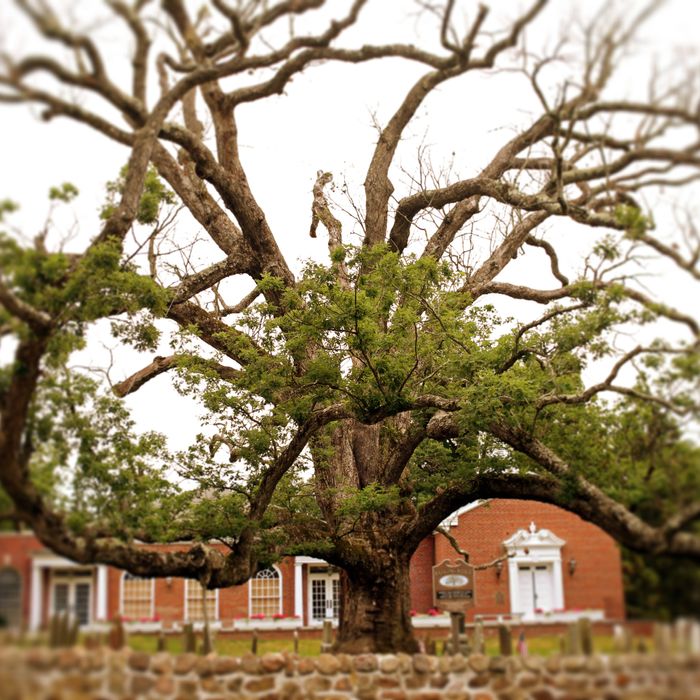 A white-oak tree — the oldest in North America, in the northern hemisphere, and perhaps the world — is seen in Basking Ridge, New Jersey, on June 23, 2016.
Photo: Yana Paskova/The Washington Post/Getty Images
In what we hope is not at all a metaphor for American democracy, a 600-year-old New Jersey white oak that George Washington and Revolutionary War financier Marquis de Lafayette are rumored to have picnicked beneath is dead, and has officially been declared unsaveable. This white-oak tree, believed to one of the oldest — if not the oldest in the country — has rotted to the point of no return, and will have to come down next year.
The New York Times did a sweet write-up about the arboreal landmark, whose caretakers have already had to shave off some of its twisted, decayed branches so they don't come crashing down on the church and the cemetery below it. The stately white oak stands in Basking Ridge, New Jersey, and predates the relatively youthful Presbyterian Church founded beside it in 1717. To add to its lore, the New Jersey tree has more than doubled the usual life span of white oaks: about 300 years. The tree did start struggling in the early 1920s, and its tenders filled the trunk with cement, which bought the oak almost another century.
There will be a memorial for the tree November 6, and the white oak will meet a wood chipper sometime in early 2017. It's still unclear what will replace the oak on the church grounds, or what will happen with all that wood. Also, we saved the worst part of the story for last: what finally did the tree in. According to the Times, its caretakers blame one of the hottest Augusts on record. Brown leaves were spotted on its branches at the end of the summer; it seemed that the elderly tree just wasn't able to withstand the "intense heat."