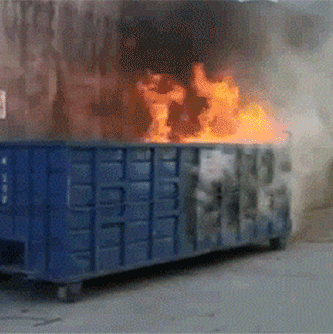 Welcome to the 2016 election.
We are a little less than three weeks away from the election and by now there is very little that hasn't been said or blogged or tweeted or sky-written about Donald Trump and Hillary Clinton. At this point, the election cycle is better summed up with a GIF. A very particular GIF, which you've probably seen at least once in the past few months online: the dumpster fire.
Mother Jones hailed the dumpster fire as the "meme of 2016." New York Magazine's Jonathan Chait has published several columns detailing the most recent dumpster-fire-isms of the Trump campaign. Slate went so far as to say that comparing Trump to a dumpster fire was an insult to the latter, since "fires get the job done." Google Trends charts a significant increase in searches for the term over the last six months. (Oddly, the searches are almost entirely in the United States. Can't imagine why.) And now, Entrepreneur's Jason Feifer has tracked down the origin story of the flaming blue dumpster that has become the glowing symbol of our democratic system.
The dumpster itself actually has a fairly famous home, Feifer reports. It's located behind the Dolby Theatre in Hollywood, California. (The Oscars are hosted annually at the Dolby.) The fire took place back in 2012, a blissful year when "bad hombres" and "grab her by the pussy" weren't yet a part of the national lexicon. Based on Google Maps, it appears the big blue trash container is still there today.
Dolby did not respond to Feifer's request for comment and the local fire department was too busy, you know, putting out actual fires to comment on the four-year-old video. "Social media, it is important to this fire department, but I don't see us dedicating time and resources to a video that's popular online," a representative said.