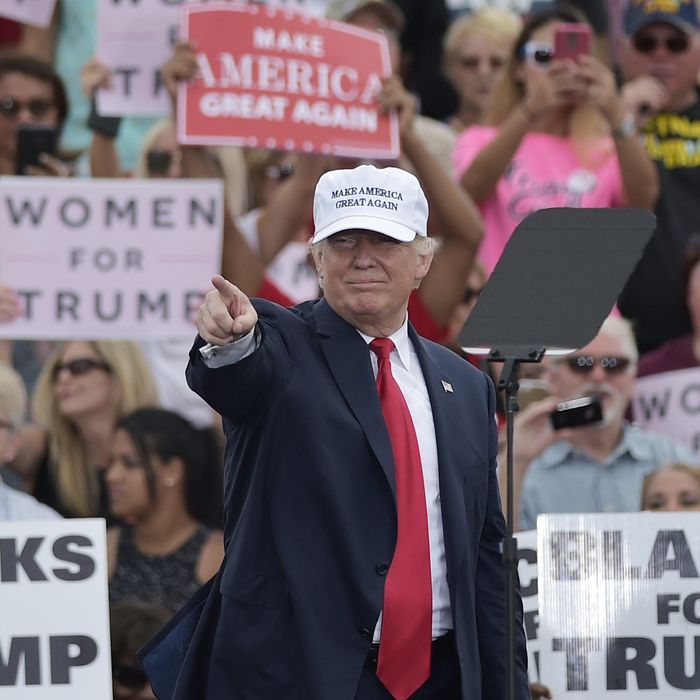 A Trump rally at the Lakeland Linder Regional Airport in Lakeland, Florida, on October 12, 2016.
Photo: MANDEL NGAN/AFP/Getty Images
Donald Trump's campaign responded to an avalanche of new sexual-assault allegations on Wednesday night by calling the claims "absurd," questioning the accusers in TV appearances, and threatening legal action against both the women and the outlets publishing their accounts. So far, no lawsuits have been filed, and many journalists have dismissed the threats as intimidation tactics.
The New York Times reports that in a phone interview on Tuesday night, Trump shouted at a reporter who asked him to comment on allegations that he groped two women. "None of this ever took place," Trump reportedly told the journalist, adding, "You are a disgusting human being." The Times says Trump threatened to sue if the paper reported the women's allegations.
After the Times published the story, the Trump campaign issued this statement from senior communications adviser Jason Miller:
This entire article is fiction, and for the New York Times to launch a completely false, coordinated character assassination against Mr. Trump on a topic like this is dangerous. To reach back decades in an attempt to smear Mr. Trump trivializes sexual assault, and it sets a new low for where the media is willing to go in its efforts to determine this election.

It is absurd to think that one of the most recognizable business leaders on the planet with a strong record of empowering women in his companies would do the things alleged in this story, and for this to only become public decades later in the final month of a campaign for president should say it all.

Further, the Times story buries the pro-Clinton financial and social media activity on behalf of Hillary Clinton's candidacy, reinforcing that this truly is nothing more than a political attack. This is a sad day for the Times.
When the Palm Beach Post published another woman's claim that Trump groped her at Mar-a-Lago in 2003, anonymous campaign sources told CNNMoney that Trump was "drafting" lawsuits against the two publications. "NYT editors, reporters, politically motivated accusers better lawyer up," a source told CNNMoney, on condition of anonymity. This prompted complaints that such anonymous threats were meant to intimidate other outlets and potential accusers.
Late on Wednesday night, Trump's lawyers released a letter to Times executive editor Dean Baquet demanding that the article be taken down and that the paper "issue a full and immediate retraction and apology." It concluded that Trump would have "no option but to pursue all available actions and remedies" if the Times failed to do so, but did not actually say that a lawsuit is forthcoming.
Baquet told CNNMoney he's not concerned about potential legal action. "I think it is pretty evident this story falls clearly in the realm of public service journalism, and discussing issues that arose from the tape and his comments since it surfaced," he said. Last month, Trump said he would sue the Times for publishing three pages of his 1995 tax return, but he has yet to file that suit.
Trump frequently threatens legal action, and has said on the campaign trail that he intends to "open up" libel laws to make it easier to sue media companies. The Washington Post explained that it was able to scoop NBC on its own footage of Trump bragging about assaulting women because NBC News sat on the footage for days as its legal team reviewed the story.
Filing a lawsuit could actually be a risky maneuver for Trump. As CNNMoney notes, lawsuits would give the publications an "opportunity to pursue discovery and request information on Trump's entire sexual history, because Trump would have the burden of proving falsity and actual malice."
Meanwhile, Trump surrogates tried to discredit his accusers on cable news. On CNN, Katrina Pierson said the women are just looking for "15 minutes of fame":
Pierson also said that Jessica Leeds — who accused Trump of lifting the armrest between their seats on a first-class flight and aggressively fondling her — must be lying, because armrests in first class were fixed in the '80s. (As Vox explains, that is not true.)
On MSNBC, Trump campaign adviser A.J. Delgado said it "simply boggles the mind" that Leeds "did not report this, not only to the authorities but even to the airline itself." In the Times piece, Leeds explains that she did not report the incident because such experiences were common at the time, and "We were taught it was our fault." She said she told four people close to her in recent months, and was spurred to come forward when she saw Trump tell Anderson Cooper that he had never sexually assaulted women at Sunday's debate.
Delgado also pivoted to allegations made by Juanita Broaddrick and Kathleen Willey against former president Bill Clinton, saying the media taught her through its coverage of those cases that sexual-assault claims are "just words, these are just allegations, this was just 'he said, she said.'"
Even before the new round of allegations against him, Trump had made it clear that he planned to double-down on attacking Hillary Clinton for her husband's alleged crimes in an effort to depress Democratic voter turnout. Trump brought Bill Clinton's accusers to Sunday's debate, and Hillary Clinton has been interrupted twice this week by protesters wearing shirts accusing the former president of rape. According to Bloomberg, Trump intends to launch a new media blitz on Thursday night, when Broaddrick, Willey, and Paula Jones will appear on a one-hour Fox News special hosted by Sean Hannity.
Two Trump staffers told Bloomberg that, on Tuesday, campaign CEO Stephen Bannon said the strategy for the remainder of the campaign is to portray Hillary Clinton as the enabler of a man who has sexually assaulted scores of women. "She's led a program of victim intimidation," Bannon said. "This has nothing to do with consensual sexual affairs and infidelities. This is Bill. We're going to turn him into Bill Cosby. He's a violent sexual predator who physically abuses women who he assaults. And she takes the lead on the intimidation of the victims."