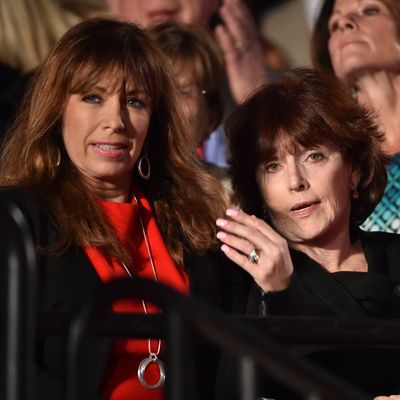 Paula Jones (left), Kathleen Willey (center), and Juanita Broaddrick (right) seated for the second presidential debate.
Photo: PAUL J. RICHARDS/AFP/Getty Images
If Donald Trump's "debate prep" with three women who have accused Bill Clinton of sex crimes left you braced for an even uglier scene in Sunday night's debate, your instincts were right. The Washington Post reported early on Monday morning that the initial plan was to seat the women in Trump's family box in an effort to intimidate Hillary Clinton and embarrass her husband by physically confronting him, in front of millions of TV viewers. Officials from the Commission on Presidential Debates thwarted the plan just minutes before the start of the debate.
According to the Post, the plan was hatched by Donald Trump campaign CEO Stephen Bannon along with Jared Kushner, Ivanka Trump's husband, and it was personally approved by the candidate. The three women who have accused the former president of sexual misconduct — Paula Jones, Kathleen Willey, and Juanita Broaddrick — were accompanied by Kathy Shelton, who accused Hillary Clinton of defending the man who raped her in 1975 when she was 12, though she knew he was guilty. A judge appointed Clinton to serve as the man's public defender, though she did not want to take the case.
"We were going to put the four women in the VIP box," said former New York mayor Rudy Giuliani. "We had it all set. We wanted to have them shake hands with Bill, to see if Bill would shake hands with them."
The plan was foiled by Frank J. Fahrenkopf, the co-chairman of the nonpartisan Commission on Presidential Debates and a former Republican National Committee chairman. After learning of the plot he told the Trump campaign that the women would be removed by security if they tried to sit in the family box. (Commission officials also told the Clinton campaign that Senator Claire McCaskill could not sit in their family box.)
Bannon and Giuliani were still pushing the issue as commission officials were making pre-debate announcements. "But we pulled it because we were going to have a big incident on national TV," Giuliani said. "Frank Fahrenkopf stopped us and we weren't going to have a fight on national TV with the commission to start the debate."
The women were seated elsewhere in the audience, in front of Senator Dick Durbin and Congressman Luis Gutierrez, both Democrats. Bill Clinton's uncomfortable look became a meme, but he was not forced to interact with his accusers on national television.
Trump has previously criticized the Commission on Presidential Debates for scheduling the events opposite NFL games and for issues with his audio within the debate hall during the last debate. Giuliani complained that billionaire Mark Cuban, a Clinton surrogate and vocal critic of Trump, was allowed to sit in the first row during the last debate, and said the campaign may ask Fahrenkopf to step down.
RNC officials say they were unaware of Trump's plan to hold a press conference with the women and bring them to the debate — but they went along with it. Sean Spicer, the RNC's chief strategist and communications director, tweeted out a link to a Trump press release alleging that Hillary "Oversaw Her Husband's Campaign's Efforts To Track Down And Discredit Women Who Were Mistreated By Bill."
RNC chairman Reince Priebus flew to the debate with Trump, and while he has condemned Trump's recorded remarks about sexually assaulting women, in an appearance on Sean Hannity's show he said Trump has "lived an extraordinary life. And some of it I'm sure is pretty wild, but he was a private citizen."
The RNC has yet to comment on Trump campaign manager Kellyanne Conway making sexual assault allegations against some of the Republicans defecting from Trump. Over the weekend, the Trump campaign signaled that it would retaliate against any lawmakers who abandoned the nominee.
Some Republicans complained that they were unable to get in touch with top RNC officials on Sunday, according to the New York Times. Meanwhile, Kushner is said to be pushing Priebus to be more loyal and supportive of Trump because, as CNN reports, the family feels "Priebus is being too negative and the fallout from Trump's tape may not be as bad as it seems." The RNC has a conference call scheduled for 5 p.m. on Monday, which may clarify whether the party will give up on Trump and try to save the House and the Senate, or go further into the gutter with the nominee.