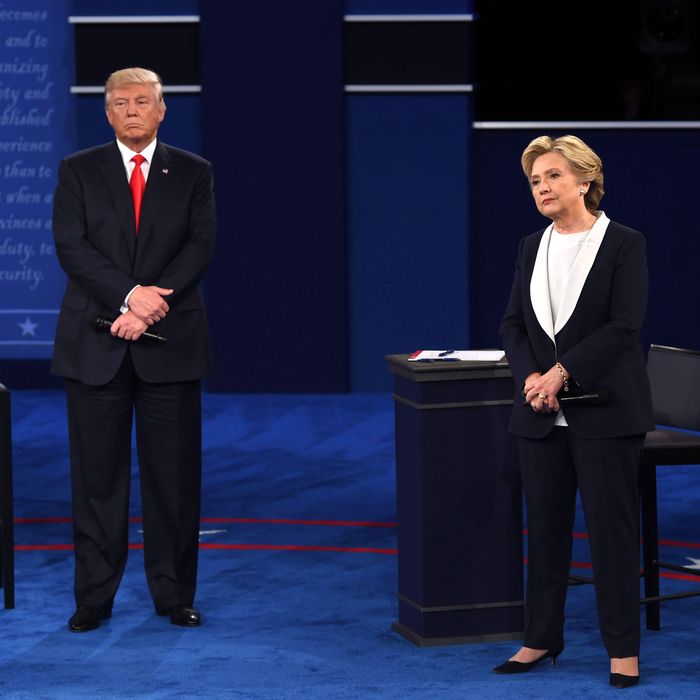 Photo: Robyn Beck/AFP/Getty Images
Sunday's second presidential debate between Hillary Clinton and Donald Trump may have set a record in terms of nasty rhetoric, but it drew a notably smaller audience than the candidates' first showdown last month. Nielsen hasn't yet issued final numbers for the dozen or so networks that aired the debate, but ABC, CBS, Fox, and the three major cable networks drew a combined audience of 60.3 million viewers, per preliminary information. Still to be counted: viewers who watched on PBS, Spanish-language networks, C-Span, and some smaller cable channels. If history is a guide, those networks should add another 6 to 8 million viewers, bringing the total up to somewhere between 66 and 68 million viewers. That would put it in line with, or perhaps a bit above, the 65.6 million who watched the second 2012 presidential debate — but well below the combined audience of around 84 million garnered by the September 26 debate. Making direct comparisons between Sunday's debate and previous matchups is a bit tricky, however.
Unlike last month's first debate, or the second debate of 2012, last night's event wasn't seen on NBC. The network, unsurprisingly, stuck with Sunday Night Football, providing fierce competition for Trump and Clinton: The game averaged 16.6 million viewers. While the first 2016 debate also faced football, it was Monday Night Football, a less high-profile franchise that airs on ESPN and not a broadcast network. With NBC out of the picture, CBS took the debate-ratings crown, drawing 16.5 million viewers, well ahead of runner-up ABC (11.5 million) and CNN (11.2 million.) Millions more also likely watched via streaming — perhaps keeping track of the game and the debate at the same time — but that audience isn't officially tallied by Nielsen.