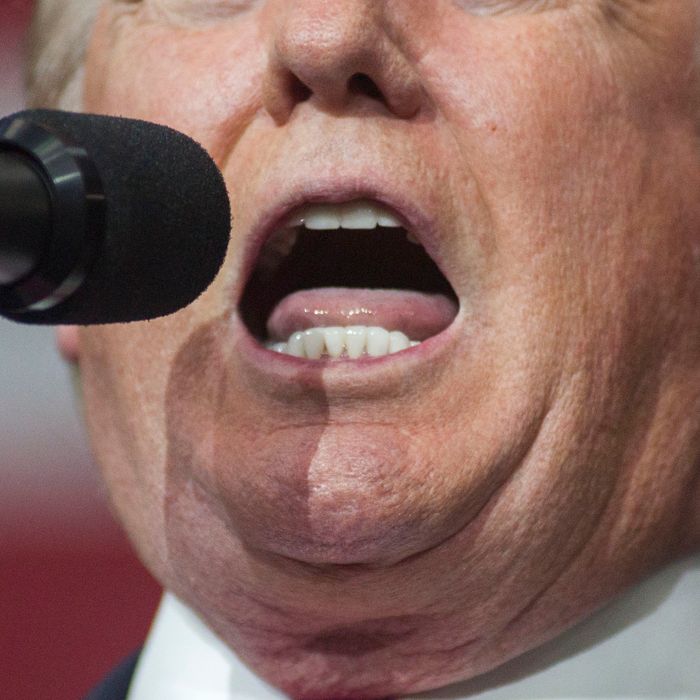 Oh what a night.
Photo: Jessica Kourkounis/Getty Images
A notably off-kilter Donald Trump was once again unable to stick to his campaign-prepared strategy at a rally in rural Pennsylvania on Saturday night, finishing arguably the worst week of his presidential campaign by going way off the teleprompter rails to launch deeply personal attacks on Hillary Clinton, as well as ad lib numerous other rambling remarks. As the Washington Post points out, according to his prepared speech, Trump was supposed to use Saturday night to introduce a nine-sentence statement about the recently leaked audio recording of Clinton offering her thoughts about Bernie Sanders supporters. Instead, 25 minutes later, Trump had also ridiculed Clinton's recent bout with pneumonia, suggested she wasn't "loyal" to her husband, suggested she was "actually crazy," ridiculed Sanders, connected "acid-washed" tweets to America being a third-world country, once again complained about his debate microphone, and offered an ominous warning about voter fraud on election day in "certain areas." He then went on to wonder aloud if maybe he should have just completed another season of The Apprentice instead of running for president.
Here is the video of Trump ridiculing and attempting an impression of Clinton's stumble outside a 9/11 memorial service last month when she had pneumonia:
He also, to the delight of his crowd, questioned Clinton's loyalty to her husband, remarking that:
Hillary Clinton's only loyalty is to her financial contributors and to herself. I don't even think she's loyal to Bill, if you want to know the truth. And really, folks, really, why should she be? Right? Why should she be?
And he once again questioned Clinton's mental health, juxtaposed with his own temperament:
I have a great temperament. I have in my opinion — it's like one of my strongest things. I have a winning temperament but you know how they choose 'em — we have a winning temperament. … Now [Clinton] has got bad temperament. She's got — She could be crazy. She could actually be crazy.
Trump, who also insisted that Clinton has "never done anything meaningful" and was "an incompetent woman," did remember to mention Clinton's email scandal — though how he framed it was utterly bizarre:
33,000 emails deleted. Bleached! Acid-washed! And then takes her phone and they hammer the hell out of them How many people have acid-washed or bleached a tweet? How many? That you deleted! So you delete it, but that's not good enough. No, we got — this is getting crazy. Our country is becoming a third world country.
Regarding Sanders — whose supporters the GOP nominee was supposed to try and court with the nine-sentence statement — Trump ridiculed him as well, calling the senator "crazy" and bragging that Team Trump has a "much bigger" and "more important" movement, and "much bigger crowds" than Sanders ever had.
Furthermore, Trump revisited his baseless claims about voter fraud. Previously, he had said that the only way he could lose Pennsylvania would be if the election was rigged, and deputized his supporters to become poll watchers. On Saturday, Trump added what was almost certainly a racially framed warning that the majority white crowd should "watch" the voters in "certain areas," because "you know what I'm talking about" and "we don't want to lose for that reason."
Trump also seemed to want to remind his supporters that he was doing them a favor by running for president (though it's also at least possible that he was expressing some kind of regret over deciding to run):
Oh, I could be doing the Apprentice right now. I loved it — 14 seasons. How good was that? Tremendous success. They wanted to extend — I could be doing the Apprentice now. Somehow I think this is a little bit more important. Do we agree? Just a little bit?
He also alluded that the campaign might end up being a waste of his time, in the midst of raving about how popular the Trump movement had become, and how — in some kind of stream-of-consciousness, real-estate-related meta commentary — pundits "aren't worth the ground they're standing on, some of their ground could be fairly wealthy ground, good ground":
When you leave, is it worth it? Is it worth it? If we don't win on November 8, I will say I don't care what [pundits] write. I don't care are if they have to give us a lot of credit — I think they have to give us credit — I will consider it a tremendous waste of time, energy, and money, believe me. 
Trump additionally tried to enthuse the crowd by championing how "high" they get off of him, as opposed to movies nowadays:
And it's getting worse. It's not getting better. It's getting worse. And you're unsuspecting. Right now, you say to your wife: "Let's go to a movie after Trump." But you won't do that because you'll be so high and so excited that no movie is going to satisfy you. Okay? No movie. You know why? Honestly? Because they don't make movies like they used to — is that right? What a difference.
Near the end of his speech, he went on to frame his candidacy as a once in a lifetime opportunity for his supporters to achieve, well, anything:
You have 38 days to make every dream you ever dreamed for your country come true. Do not let this opportunity slip away or be wasted. You will never ever have this chance again. Not going to happen again… You have one magnificent chance.
And lest we forget, while all of this was happening, the fallout over his leaked 1995 tax records — which indicate that Trump may not have paid federal income taxes for 18 years — was just getting started.
Finally, for those keeping score at home: