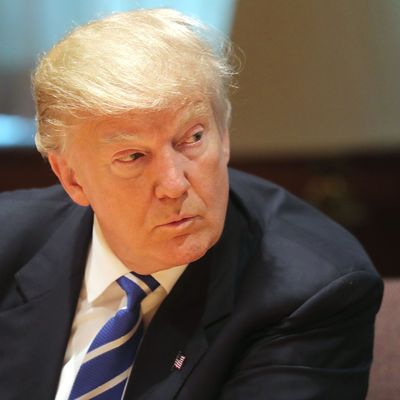 Photo: Spencer Platt/Getty Images
Last Thursday, the Washington Post revealed that the Trump Foundation — a charity that specializes in helping real-estate moguls secure legal aid and Tim Tebow memorabilia — is not certified to solicit donations in New York. On Friday, the office of New York Attorney General Eric Schneiderman ordered the foundation to cease all fundraising operations in the state.
In New York, charities that solicit over $25,000 a year in donations are required to register with the government and subject themselves to rigorous, independent audits of their spending. But, as the Post's David Fahrenthold has made clear, the Republican nominee has no small number of reasons for wishing to avoid such scrutiny.
Schneiderman's office gave the Trump Foundation 15 days to provide all paperwork necessary for registration, as well as financial audit reports for every year the charity operated illegally in the state. James Sheehan, head of the attorney general's charities bureau, wrote that if the foundation continued fundraising without filing such documents, it would be viewed as "a continuing fraud upon the people of New York."
Trump spokesperson Hope Hicks told Politico, "While we remain very concerned about the political motives behind AG Schneiderman's investigation, the Trump Foundation nevertheless intends to cooperate fully with the investigation."