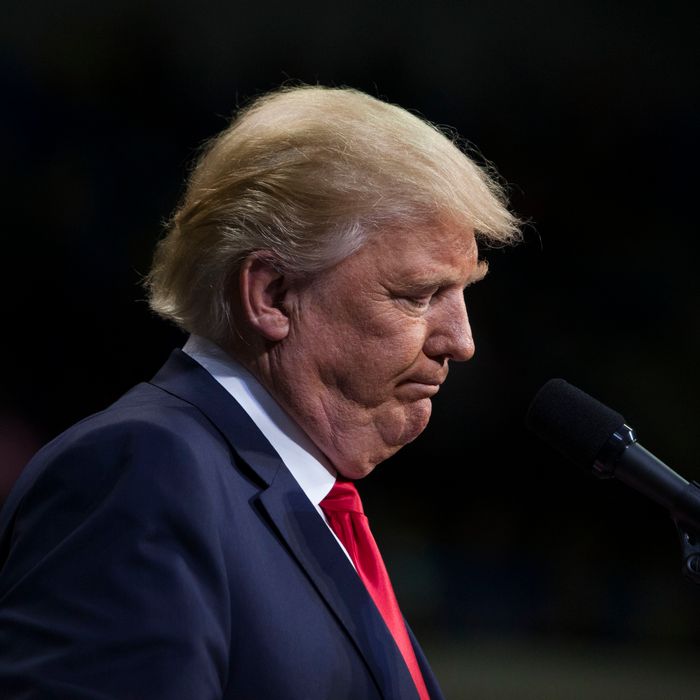 Donald Trump.
Photo: Jessica Kourkounis/Getty Images
Five days after America learned what Donald Trump likes to (non-consensually) grab women by, voters continue to withdraw their consent for his candidacy.
New polls show Trump trailing by 9 points nationally, by that same margin in Ohio, and tied with Hillary Clinton in Utah. What's more, the L.A. Times/USC tracking poll, whose aberrant voter model has put Trump ahead for most of the campaign and all of the past month, now has him tied with the Democratic nominee.
The Ohio poll, conducted by the Baldwin Wallace Community Research Institute, finds Clinton leading Trump 43 to 34 percent in a four-way race, and 48 to 38 in a head-to-head. The survey finds a gender gap in the state, albeit a relatively modest one compared to most national polls, with men favoring Clinton by 2 points, while women back her by 10.
Throughout the 2016 race, Trump has been more competitive in Ohio than in most other battleground states, as the Buckeye State's wealth of non-college-educated white voters has buoyed the mogul's fortunes. If the GOP nominee is truly down by 9 in Ohio, he should be down by double digits in Florida. Which is one reason to take this survey with a grain of salt. What's more, Baldwin is an academic pollster that lacks a long track record. However, its poll boasts a somewhat larger sample size than the average survey of the state.
Turning to Utah, a new poll by Salt Lake City's Y2 Analytics suggests Trump's 11-year-old endorsement of sexually assaulting women has proven devastating in the heavily Mormon state. Per the Deseret News:
Also, a majority of voters statewide and specifically Mormons, as well as a near majority of Republicans, say Trump should drop out of the race, according to the poll.

The poll shows that 94 percent of Utahns have watched or heard about the video in which Trump had an extremely lewd conversation about women caught on a hot microphone in 2005. Y2 Analytics managing partner Scott Riding called that high percentage "astounding" for political news.Those who viewed the video felt more strongly that Trump should step aside than those who only heard about it, according to the poll.
Those sentiments have brought Trump into a 26 percent–to–26 percent tie with Hillary Clinton in one of the reddest states in the union. BYU graduate and independent presidential candidate Evan McMullin, who has been campaigning as though he were running to be president of Utah, is narrowly behind the major-party standard-bearers at 22 percent. Libertarian Gary Johnson commands 14 percent.
Trump's chat with Billy Bush has cost him the support of much of Utah's political leadership, as Governor Gary Herbert and congressmen Jason Chaffetz and Chris Stewart all announced they would no longer be voting for the Republican nominee.
Utah isn't the only Republican stronghold that's starting to look purple. According to the New York Times, the GOP's internal polling now shows Trump in "dire risk of losing Georgia."
In a testament to how bleak Trump's prospects look at present, the best polling news for his campaign Wednesday morning comes from a survey that puts him 9 points behind nationally. Per NBC News:



Poll data released by NBC News and the Wall Street Journal on Monday, which only included interviews conducted before the debate, showed Clinton with a 11 point lead in a four-way contest and a 14-point lead in a head-to-head matchup.

Among only those respondents contacted after the debate, Clinton's lead shrank to a seven point advantage in both a four-way matchup and in a head-to-head race – reflecting the same margin that Clinton showed in a mid-September NBC/WSJ poll.
In other words, Trump's debate performance Sunday night appears to have reassured some Republican voters whose support had wavered over the weekend.
Still, it's possible that the debate will fade from memory sooner than "grab 'em by the pussy" does. The video was initially released on a Friday evening before a holiday weekend. The number of voters who have actually seen the footage will only grow in the coming days. And that could push light-red states into bluer shades.