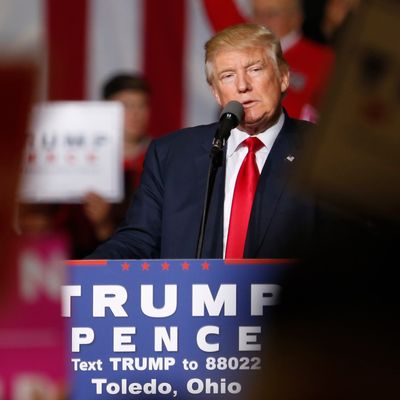 Photo: JAY LAPRETE/AFP/Getty Images
On Thursday, Donald Trump suggested that America forgo this whole "democratic election" formality and just pronounce him ruler already.
"We should just cancel the election and just give it to Trump, right?" the Republican nominee asked supporters in Toledo, Ohio. "What are we even having it for? What are we having it for?"
The mogul's proposal was made in jest, but his desire to avoid the voters' impending verdict appears very real indeed. While Trump evinces total faith in his inevitable victory over Twitter, he displays a marked skepticism about that prospect in his campaign's latest financial statement.
After spending $2 million a month on his own campaign throughout the summer and early fall, Trump gave it a mere $31,000 through the first three weeks of October — and all of that was in complimentary rent and staff salaries.
Trump wasn't the only big-dollar donor to abandon his campaign. After the GOP nominee and the RNC's joint fundraising committees took in $100 million in September, they cobbled together a mere $61 million in October. That drop-off coincided with a flood of money to conservative outside groups focused on down-ballot races. On Thursday night, the Senate Leadership Fund, a group working to retain the GOP majority in the upper chamber, announced it had raised $25 million this past week alone.
Meanwhile, Clinton's campaign and associated fundraising committees took in $101 million since October 1. That haul has left $62 million stacked up in Clinton's campaign coffers, while Trump's boast a mere $16 million.
Notably, Trump's most important supporters, his children, did not scale back their investment in his campaign this month — because they have never donated money to it at any point this campaign cycle.
While Ivanka Trump donated to Hillary Clinton in 2007 and John McCain in 2008, FEC records suggest she has donated nothing to her father, the Daily Beast's Gideon Resnick reports. And neither has Tiffany, Donald Jr., or Eric — although the latter did spot the campaign lunch expenses at one point, he was later refunded. (Chelsea Clinton gave $2,700 to her mother's campaign in January).

Thus, to this point, Eric and Ivanka have neither voted for, nor donated to, the Trump 2016 campaign.
Which is one more reason to question their father's ability to mobilize missing white voters.