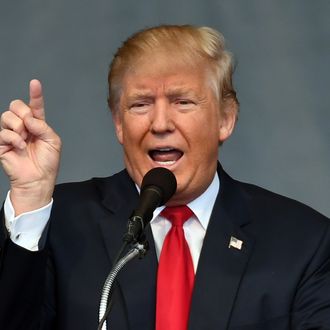 You're welcome.
Photo: Ethan Miller/Getty Images
Hillary Clinton currently has a slight lead on Donald Trump in Nevada, but that's about to change. On Wednesday night the Republican nominee did Nevadans a big favor by explaining that they pronounce their state's name wrong.
"Heroin overdoses are surging. In fact, overdoses in Nevada — Nev-AAH-duh," he said at a rally in Reno. "You know what I said? You know what I said? I said when I came out here, I said, 'Nobody says it the other way, it has to be Nev-AAH-da.'"
The crowd cheered, and Trump offered an anecdote to drive the lesson home. "If you don't say it correctly — and it didn't happen to me but it happened to a friend of mine, he was killed," Trump said.
Unsurprisingly, Senate Minority Leader Harry Reid, who represents Nevada, didn't appreciate Trump's tip:
Some even suggested he was joking:
But clearly this source is wrong. Trump would never make a weird joke while talking about something as serious as heroin addiction — particularly in a state where one wrong word could get you killed!