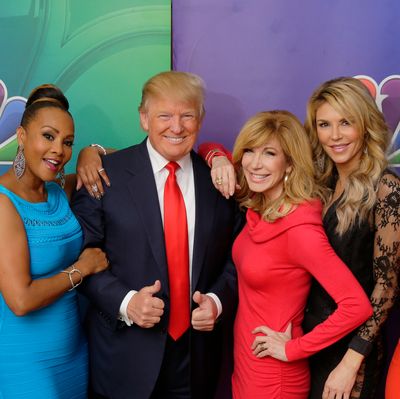 Trump with Celebrity Apprentice contestants Vivica A. Fox, Leeza Gibbons, and Brandi Glanville, among others.
Photo: NBC/NBCU Photo Bank via Getty Images
If Donald Trump's entire candidacy turns out to be an elaborate I'm Still Here–style mockumentary, don't say he didn't warn us. In an interview with Las Vegas TV station KSNV on Wednesday, the GOP nominee suggested that his gross comments about women (for examples, check out basically any Hillary Clinton ad) were made while he was in character as Donald Trump, host of The Apprentice.

"You have two beautiful daughters past their teenage years," KSNV's Jim Snyder said. "Can you understand the concern from parents of younger girls that some of your comments could be hurtful to girls struggling with body image and the pressure to be model-perfect?"
"Sure I do. And you know, a lot of this is done in the entertainment business. I'm being interviewed for Apprentice long before I ever thought in terms of running for office," Trump responded, according to a transcript posted by CBS News' Sopan Deb.
"But a lot of that was done for the purpose of entertainment," Trump continued. "I can tell you this: There is nobody — nobody — that has more respect for women than I do."
So now that he's Donald Trump, presidential candidate, is he trying to tone down those remarks? "Well, it's not a question of trying. It's very easy," he said. "But you know, you're in the entertainment business. You're doing The Apprentice. You have one of the top shows on television. And you say things differently for a reason."
The Apprentice launched in 2004, so if true, Trump was plotting to turn a series of business failures into a lucrative TV and steak business for more than a decade. He famously declared, "You know, it doesn't really matter what [they] write as long as you've got a young and beautiful piece of ass," way back in 1991. Five years later, he reportedly called Miss Universe Alicia Machado "Miss Piggy." He's the Daniel Day-Lewis of sexist reality-TV characters!

Alas, Trump told KSNV that "now it's a much different world." Presumably the "now" he's referring to is the last five days. It's been less than two weeks since Trump responded to Clinton's point that he calls women "pigs, slobs, and dogs" by saying Rosie O'Donnell "deserves it," and complaining on Fox and Friends that Machado "gained a massive amount of weight" and directing his Twitter followers to her nonexistent sex tape.