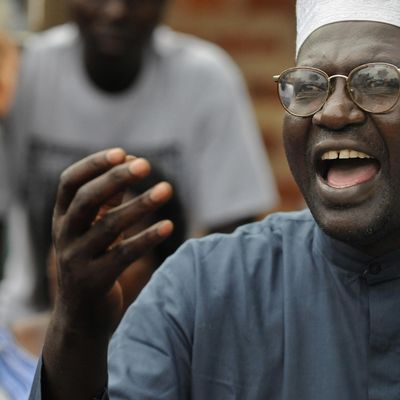 Malik Obama, the president's half-brother.
Photo: Tony Karumba/AFP/Getty Images
Donald Trump has announced that President Obama's half-brother, Malik Obama, will be attending tomorrow's debate in support of the Republican candidate.
Malik Obama's surprising politics came to light in September when he was reached in his native Kogelo, Kenya, and revealed that he would be voting for Trump. Malik described his favorite candidate as "a humble and honest guy," compared to Clinton, who he thought was "dishonest and a liar" because she "keeps on lying about emails."
This isn't the first time Trump has used debate guest lists to wage a kind of psychological warfare on his opponent. Trump brought three women who had accused Hillary's husband of sexual impropriety to the last debate, and even tried to seat them in his family box to force a showdown with Bill Clinton.
Speaking to the New York Post's Page Six, Malik said that he is "excited to be at the debate," and that "Trump can make America great again." Malik also said that he doesn't believe recent sexual-assault accusations against Trump, wondering, "Why didn't they come forward before?"
When he's not in Kenya, Malik lives in Washington, D.C., but he and his presidential half-brother are not close. His mother divorced Barack Obama Sr. after just three years of marriage and Malik hasn't seen the president since last year. He described their meet-and-greet at the White House as "a hands-off kind of thing, very businesslike." Malik is openly resentful of his brother for not offering more support to his foundation, the Barack H. Obama Foundation, which he set up to help the family village in Kenya.
Trump has said that "I look very much forward to meeting and being with Malik," adding that "he gets it far better than his brother."