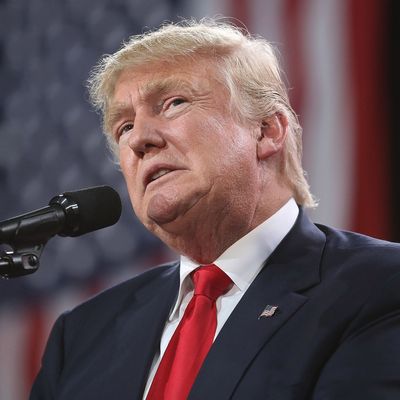 Losing big league.
Photo: Joe Raedle/Getty Images
To the extent that Donald Trump still has a path to the presidency, it's a narrow, thorny one that winds through Florida — and Hillary Clinton is on the cusp of walling it off.
Clinton has led Trump in 10 of the last 11 polls of the Sunshine State; she is outspending him over the airwaves $51 million to $30 million; she has 68 offices in the state to his 29: and she has nearly erased the GOP candidate's traditional advantage among absentee voters.
That last point could prove decisive. At this point in 2012, Republicans had returned 5 percent more absentee ballots than Democrats had — this year, that advantage is a mere 1.7 percent. And, of course, even that 5 percent early lead wasn't enough to deliver the state for Romney four years ago.
In a confidential memo obtained by Politico, the conservative business group Associated Industries of Florida summarized the state of play thusly:
This is in all reality a landslide in our great state … Based on his consistent failure to improve his standing with non-white voters, voters under 50 and females, it seems fairly obvious to us that Mr. Trump's only hope left in Florida is a low turnout.
But at this point there's little reason to think that turnout is a bigger worry for Clinton than it is for Trump. For much of the 2016 race, Trump had performed better among likely voters than all registered ones, but the latest wave of national and state polls has shown this trend reversing.
A portion of Trump's troubles in Florida can be attributed to factors he had little chance of changing. The Sunshine State's voter rolls became 3 percent less white over the past four years, growing the ranks of traditionally Democratic constituencies. And the GOP's declining absentee-ballot advantage is partially the product of Democrats getting wise to their opponent's methods for pressuring its base to vote early by mail, according to a Republican operative who spoke with Politico.
But the lion's share of Trump's troubles are self-created. The GOP nominee's limited presence on both the ground and airwaves are a product of his refusal to put as much effort into fundraising as Romney did four years ago. And his Florida campaign got off to a late start by every metric: Two-thirds of the campaign's TV ads just started airing this month, all but one of his Florida offices opened after September, and his absentee-ballot-"chasing" operation only kicked into full gear after Democrats briefly overtook Republicans in the mail-in vote last week.
And, of course, he's staunchly refused to give anyone but his reactionary white base and committed Republicans any reason to vote for him — while giving African-Americans, Latinos, women, and anyone who bristles at anti-intellectual authoritarianism (i.e., college graduates) countless reasons not to.
Trump's declining fortunes in Florida are starting to make Marco Rubio's team fear that the mogul will put the finishing touches on the senator's political career. Per Politico:
One bright spot for Florida Republicans: Sen. Marco Rubio, who leads Congressman Patrick Murphy by 5 points in AIF polls and has bested the Democrat in more than two-dozen other surveys. But increasingly, Rubio's team and supporters are nervous as Trump's fortunes appear to wane. They fear that if Trump loses by 5 points, it could signify a Democratic blue wave that swamps Rubio.
Moving northward, a similar story is playing out in North Carolina. In September, the Upshot/Sienna College survey had Clinton and Trump tied among likely voters in the Tarheel State. Today the poll puts Clinton up by 7.
When Romney won North Carolina in 2012, he bested Obama among white, college-educated voters by 20 points. In the Upshot's new poll, Clinton has gained 3 points among the demographic, putting her ahead of Trump 42 to 40 percent. Clinton has also ticked up 5 points among white voters without college degrees, bringing her to 22 percent support among that group, edging toward Obama's share of the demographic four years ago. Finally, she's gained 9 points among the state's nonwhite voters, putting her margin among North Carolinians of color at 81 to 6 percent.
The poll is one of the friendliest Clinton has received in the state, but it's not wildly out of step with others taken this month, which, on average, have put Clinton 3 points ahead. Should Clinton maintain her current standing, the state's Republican senator Richard Burr will likely be ousted by his Democratic challenger Deborah Ross.
The one potential bright spot for Trump in the survey is that there's room for him to close the gap with Clinton without winning over hostile demographics. At present, the mogul lays claim to the support of only 80 percent of self-identified Republicans in the state. Ultimately, whether or not the 2016 campaign ends in a Democratic landslide will likely depend on whether those anti-Trump Republicans come home by November 8 — or, failing that, bother to show up to vote down ballot.
If they don't do either, the electoral map could turn bluer than it has for some time. At present, FiveThirtyEight's polls-only forecast projects Clinton to make a clean sweep of this year's swing states, even pocketing Iowa, Ohio, and Arizona — where Trump has led for much of the campaign. What's more, the model projects Trump's advantage in Georgia to be a mere 2.5 percent — and in Texas, only 5.3.
But in the world Trump supporters live in, the mogul isn't shrinking the Republican map — he's on the verge of radically expanding it.
In 14 days, that world will end.