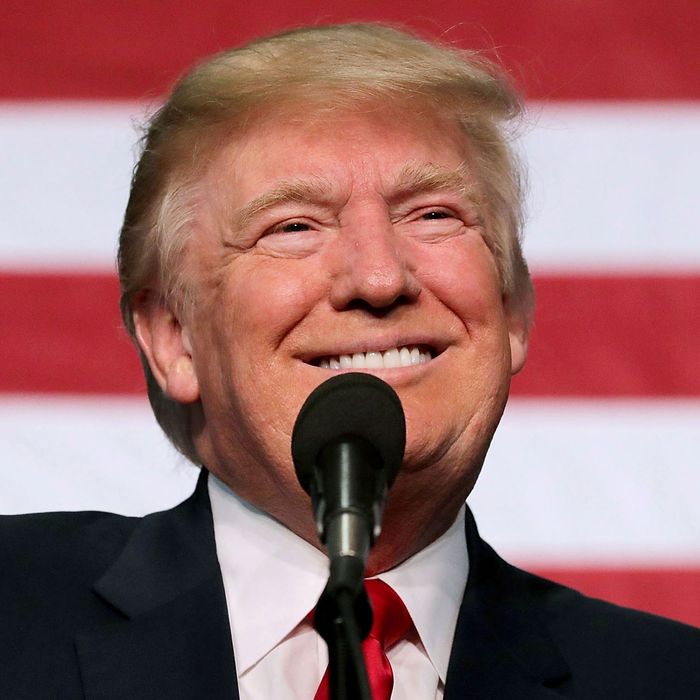 Photo: Chip Somodevilla/Getty Images
In Donald Trump's America, the polls are skewed and the pollsters get screwed: The Republican nominee is refusing to pay nearly $767,000 in fees that his former campaign pollster Tony Fabrizio says he is owed, the Washington Post reports.
The mogul's campaign declined to detail its reasons for refusing to fully compensate Fabrizio for his efforts. It's possible the pollster turned in substandard work. But Fabrizio isn't an unknown number-cruncher of little repute — the man has advised Republican campaigns for decades, including Bob Dole's 1996 presidential run and Rick Scott's more successful bid for Florida governor.
By contrast, Trump has a long and well-documented history of stiffing contractors out of their promised paydays. In fact, using one's financial power to intimidate laborers into accepting less than they were promised is one of the mogul's top business innovations. In his four decades as a real-estate developer, Trump has been accused of screwing over painters, dishwashers, real-estate brokers, a music-store owner, and other contractors hundreds of thousands of times.
"The actions in total paint a portrait of Trump's sprawling organization frequently failing to pay small businesses and individuals, then sometimes tying them up in court and other negotiations for years," USA Today's Steve Reilly wrote, in an exposé on Trump's habitual shirking. "In some cases, the Trump teams financially overpower and outlast much smaller opponents, draining their resources."
As Vox notes, Republican consultant Brian James Walsh offered further corroboration of Trump's ingenious technique for managing labor costs last month.
Thus, Trump's best defense in his dispute with Fabrizio may be the one articulated by a reptile in the GOP nominee's favorite poem.