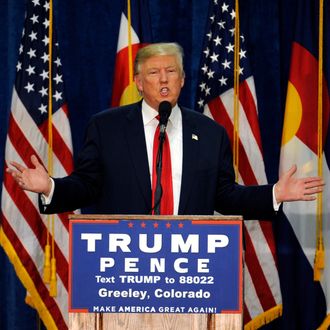 Photo: JASON CONNOLLY/AFP/Getty Images
Voter fraud is not a widespread problem in the United States, but by the time Donald Trump is through with us, it might be.
The GOP nominee spent the weekend campaigning in Colorado, and rather than focusing on those who have yet to cast their ballots, he tried to convince his supporters that their mail-in ballots will not be counted. Colorado is one of three states where ballots are mailed to all registered voters. People can either send back their ballot, or vote in person.
This is a prime example of the vote rigging Trump has been talking about in recent weeks, according to a completely imaginary scenario the candidate shared on Saturday. "I have real problems with ballots being sent, does that make sense?" Trump said at a rally in Golden, Colorado. "Like people say, 'Oh, here's a ballot, bing, here's another ballot, throw it away, throw. Oh, here's one I like, we'll keep that one. I have real problems, so get your ballots in. We're trying to have some pretty good supervision out there. We have a lot of people watching you people that collect the ballots."
Multiple Colorado lawmakers said what Trump is suggesting is impossible. "This type of rhetoric is absurd," said Republican U.S. Representative Mike Coffman, "and I have faith in the American people and in our election system."
Nevertheless, on Sunday in Greeley, Colorado, Trump shared a solution for the vote-tampering problem that doesn't exist. Trump asked the crowd of roughly 2,000 if they really believe that their mail-in ballots are being counted, saying he doubts it because he's a "skeptical person."
He explained that voters "can check on [their] ballot to make sure it's counted properly." In fact, there is a website where voters can check to make sure their ballot was received. But then Trump appeared to suggest that people who simply don't trust that their mail-in ballot was counted should go vote in person.
"They'll give you a ballot, a new ballot. They'll void your old ballot, they will give you a new ballot. And you can go out and make sure it gets in," he said. "In some places they probably do that four or five times. We don't do that. But that's great."
Many interpreted that as a call to cast two ballots for Trump, but he's saying only one of those two votes should be counted. The mail-in vote will be voided so that the Colorado voter can submit a single, reliable in-person vote for Donald J. Trump.
That sounds reasonable, but that's not how voting works in Colorado. The Colorado secretary of state's office told Fox 31 Denver that people cannot change their votes. They can choose to vote in person rather than submitting their mail-in ballot, but once a clerk has received their ballot it cannot be changed.
A recent CBS 4 Denver investigation uncovered a dozen incidents in which Coloradans attempted to vote twice in previous elections, and Colorado Secretary of State Wayne Williams said they are cracking down on such cases. "There are individuals who break the law and they should, and are, being prosecuted for that," Williams said.
Last week in Iowa a Trump supporter was arrested and charged with voter fraud after casting two ballots.