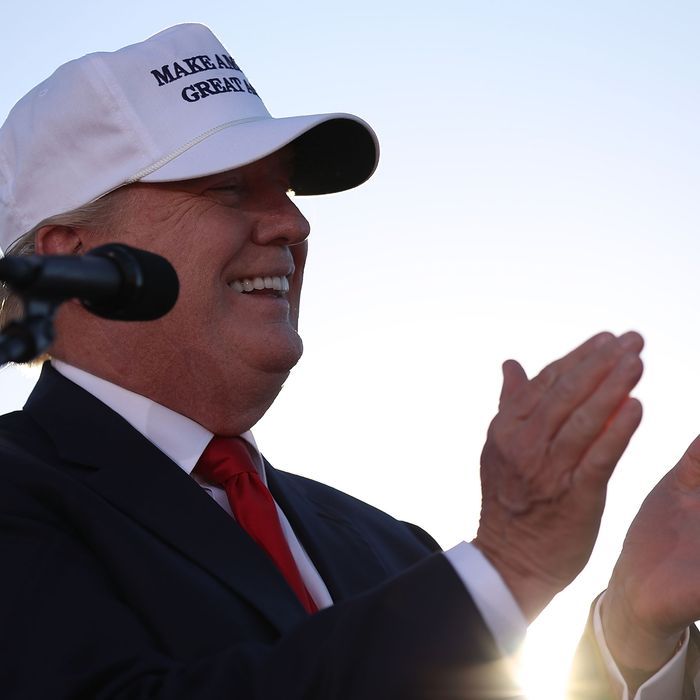 Donald Trump, future media mogul?
Photo: Joe Raedle/Getty Images
On Monday night, the Donald Trump campaign launched a new series of nightly Facebook broadcasts. The livestream — modeled after a cable-news network with similar graphics and a news ticker running at the bottom of the screen — featured Trump campaign advisers Boris Epshteyn and Cliff Sims acting as hosts, interviewing Trump supporters such as campaign manager Kellyanne Conway, TheBlaze's conservative commentator Tomi Lahren, and the Republican National Committee's communications director and chief strategist Sean Spicer.
In between interviews and clips from Trump campaign ads, the hosts railed against the "left-wing media," which Epshteyn explained "screws everything up" and boasted that now they could reach viewers without bias or spin.
There were the usual claims that Hillary Clinton is ineffective and boring, as well as corrupt and criminal. Guests also did their part in getting voters to turn out at the polls, insisting that Trump still had a viable path to the White House if his "deplorables" — their words not ours — all made sure to vote.
"We will win," said Conway, "let me say it unequivocally: We will win."
At one point, Conway boasted that Trump had more than 25 million followers on Facebook, though you could see right next to the broadcast that only 11,690,946 liked his page.
The content of the broadcast didn't hold many surprises. Mostly it functioned as a roundup of the current Trump camp talking points: that Virginia governor Terry McAuliffe's super-pac donated nearly $500,000 to the campaign of the wife of an FBI official who helped oversee Clinton's email investigation, and something called "ducks on the ground" — a trending hashtag referring to Hillary's alleged plans to send people dressed in duck costumes to Trump rallies to incite violence.
Still, the importance of the broadcast was less what was said, than how it was said. For months there has been speculation that Trump is just using his presidential run as a bid to start his own cable-news network. While Trump has denied the claims, he did conspicuously take on disgraced Fox News CEO Roger Ailes as an adviser, and his son has reportedly been talking to media power brokers. These Facebook broadcasts with their trappings of cable news should only bolster those suspicions.
At one point, the hosts even acknowledged the rumors, saying that the "left-wing media" was "even trying to spin" the broadcast "as TrumpTV."
TrumpTV or not, the livestream seems to be here to stay. According to the hosts, it will stream every evening prior to Trump's rallies. In addition to broadcasting the campaign events, the streams will also feature lighter fare, like interviews with Trump's family and tours of Trump Tower.
For the inaugural stream, the hosts forwent anything like that in favor of some to-be-expected rhetoric about immigrants — "because of Obama's immigration policy Americans have lost their lives" — before segueing into the evening's Trump rally, where Trump told the crowd all about Terry McAuliffe.