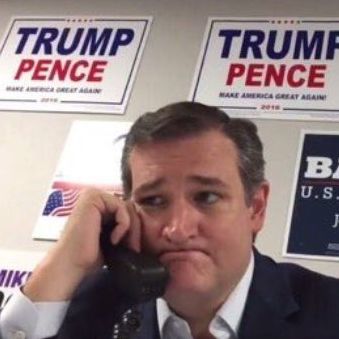 Hang in there, Ted.
Photo: Screencap/Twitter
Senator Ted Cruz's will-they-won't-they political relationship with Donald Trump is strained, but not yet broken, following the revelation that Trump once bragged about using his fame to sexually assault women. Across the country, Republican officials have been steadily denouncing Trump and explaining that they cannot, in good conscience, support his candidacy anymore. Meanwhile, Cruz, who was booed off the stage at the Republican National Convention for literally telling Republicans to vote their conscience (for someone other than Trump), is suddenly faced with the extraordinarily awkward position of being perhaps the most reluctant, yet famously late, adopting Trump supporter in the country at a time when Trump has become unbearably toxic.
On the one hand, the one-time Trump phone-banker acknowledged on Friday night that Trump's groping remarks were "disturbing and inappropriate" and "there is simply no excuse for them" because "every wife, mother, daughter — every person — deserves to be treated with dignity and respect." On the other hand, he has not been one of the Republicans to repudiate Trump or call for him to withdraw from the race over the weekend — surely frozen in place by the vow to support the GOP nominee he made just two weeks before that nominee became unsupportable.
Of course, back in the early period of the GOP primaries, Cruz was chummy with Trump before he considered the mogul a threat to his own candidacy for the Republican nomination. But later on when they were facing off against each other, their relationship turned very sour, eventually culminating in Trump both insulting the appearance of Cruz's wife, Heidi, as well as publicly suggesting that Cruz's father was complicit in the assassination of President John F. Kennedy. Then, on the eve of losing the GOP primary race to Trump, Cruz let loose and called the businessman an "utterly amoral" "serial philanderer" and "pathological liar" who is "a narcissist at a level I don't think this country's ever seen."
This weekend would seem to have proved Cruz's case by most standards, except it was too late for Cruz to hit his GOP colleagues with an I-told-you-so, since he finally endorsed Trump last month. Politico reports that Cruz considered two courses of action on Saturday night following the release of the Trump tape and the resulting GOP exodus: either to return to his #NeverTrump stance and risk a reputation hit, or to stick with Trump and start blaming the media. He chose the latter, which ended up conveniently doubling as a bitter lament for what could have been: