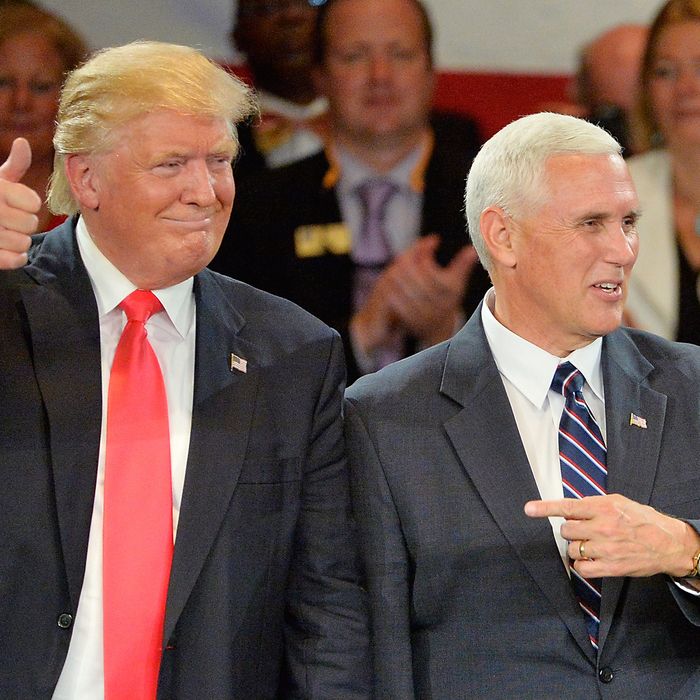 Photo: Sara D. Davis/Getty Images
On Tuesday night, Mike Pence made it through a debate without sniffling, defending tax evasion, or attacking Rosie O'Donnell. This restraint — combined with the Indiana governor's steadfast refusal to defend (or even acknowledge the reality of) Donald Trump's most controversial statements and policy proposals — earned Pence rave reviews from a plethora of pundits.
The Republican nominee was (reportedly) displeased.
As Deadspin's Ashley Feinberg notes, this wouldn't be the first time that jealousy cost Trump an important relationship:
The controversial 1993 Trump biography Lost Tycoon painted a stark picture of Trump's tendency to get jealous to the point of self-sabotage. In the late '80s, Trump put his wife, Ivana, in charge of Trump's Castle, one of his Atlantic City casinos. And unfortunately for Trump, Ivana was a hit:

"He hated it when Ivana grabbed the spotlight," recalled a former Trump's Castle executive. "He tried to mold her in the his own image, and she tried to please him. When he saw what she was becoming—a real rival to him—he didn't like it."
But, fear not: If there was trouble in Trump-Pence paradise, it has passed.
By Wednesday afternoon, Trump had realized that Mike Pence hadn't won the debate — Trump had won the debate by picking Pence.
"How many of you watched the vice-presidential debate last night?" Trump asked a crowd in Henderson, Nevada. "Mike Pence did an incredible job, and I'm getting a lot of credit because that's really my first so-called choice. That was my first hire, as we would say in Las Vegas. And I'll tell you, he's a good one."
"I'd argue that Mike had the single most decisive victory in the history of vice-presidential debates," Trump continued. "I believe that, too. And last night, America also got to look firsthand at my judgment, and that was judgment. You know, you need judgment for people, for deals."
Before Trump took the stage, Pence declared the mogul the winner of the vice-presidential debate.
"Some people think I won," Pence said. "But I'll leave that to others. You know, what I can tell you is, from where I sat, Donald Trump won the debate. Donald Trump's vision to make America great again won the debate."
Still, Trump's euphoria at his newly discovered victory was tempered by visions of future loss. Per Politico:
Trump recalled a conversation with a "very big," "very respected" and "very liberal" unnamed pundit who he said told him that what he's accomplished in his campaign has never been done and will go down in history regardless of whether he wins in November.

Trump, however, refuted that assertion.

I said: 'No, you don't understand. I'd like to agree with you, but if I don't win, this will be the greatest waste of time, money and energy in my lifetime, by a factor of 100," he told supporters at a rally in Henderson, Nevada.
As of this writing, the Upshot's forecast gives Trump a 19 percent chance of winning on November 8. On Wednesday, The Wall Street Journal, Washington Post, Atlantic, and the Daily Beast all ran headlines featuring the words, "Mike Pence 2020."