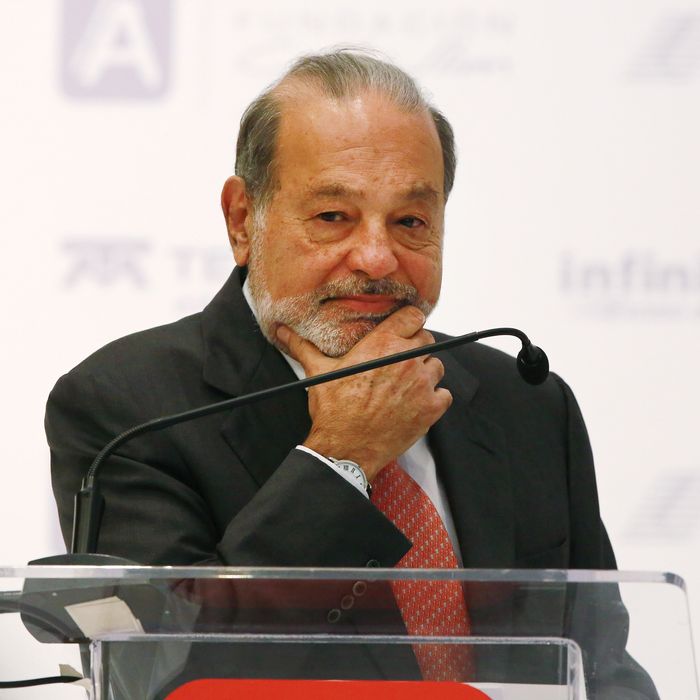 Billionaire Carlos Slim on June 15, 2016.
Photo: Bloomberg/Bloomberg via Getty Images
Donald Trump defended himself against a string of sexual-assault allegations on Thursday by claiming that he is the target of a global conspiracy to "plot the destruction of U.S. sovereignty in order to enrich these global financial powers, [Hillary Clinton's] special-interest friends, and her donors." Apparently, in the coming days, Trump plans to get more specific, attacking a man who ties together his issues with the New York Times, Mexico, the Clintons, the Bushes, and maybe even his own wealth.
The Wall Street Journal reports that Trump intends to allege that Mexican billionaire Carlos Slim, the second-richest man in the world, "is part of a biased coalition working in collusion with the Clinton campaign and its supporters to generate news reports of decades-old allegations from several women." A Trump adviser told the paper that the attack could come as early as Friday, and the candidate will allege that as both a New York Times Company shareholder and a Clinton Foundation donor, Slim is motivated to make sure Clinton wins in November.
It's true that Slim and his foundation have given between $250,000 and $500,000 to the Clinton Foundation. He also gave the New York Times a $250 million loan at an interest rate of 14 percent in 2008, which the paper repaid in 2011. In January 2015, Slim more than doubled his stake in the New York Times Company; he now own 17 percent of the company, making him its largest stakeholder.
On Wednesday, Trump threatened to sue the Times and demanded a retraction and an apology after it published allegations from two women who say the candidate groped them. The paper responded with a letter saying it stands by the report and "it would have been a disservice not just to our readers but to democracy itself."

New York Times publisher Arthur Sulzberger Jr. denied that Slim has any influence on the paper's coverage. "Carlos Slim is an excellent shareholder who fully respects boundaries regarding the independence of our journalism," he told the Journal. "He has never sought to influence what we report."
Slim owns more than 200 companies in Mexico, and Vocativ once confirmed that it's hard to get through the day there without paying him in some form. While Slim has been expanding outside of Mexico, in the U.S. he's often referred to as the "richest man you've never heard of." That's not true for followers of right-wing media, where "Carlos Slim's blog" is a popular nickname for the Times. (In her 2015 book ¡Adios, America! Ann Coulter went with "Slim's pimp," alleging that the paper moved "toward deranged hectoring in favor of illegal immigration" after Slim's investment.)
Trump has yet to lay out his theory on how the Clinton Foundation fits into the equation, but he's already raised the connection between Slim and the Times on the campaign trail. In a February appearance on Stephen Bannon's SiriusXM radio show — before Bannon became Trump's campaign CEO — the candidate agreed with the Breitbart chairman's suggestion that Slim got involved with the Times because he "was looking for a platform to influence American policy."
At a campaign rally days later, Trump said, "I know why I get bad treatment in the New York Times: because it's owned by Mexico … I don't know if you know. A rich guy in Mexico actually has power at the New York Times. I wonder why they don't like us, you know? I just wonder."
Trump's issues with Slim predate his allegations that the Mexican billionaire turned the Times against him. When Trump kicked off his campaign by complaining about Mexico sending the U.S. its criminals and "rapists" in June 2015, Univision canceled its $13.5 million contract with Trump to televise the Miss USA pageant, and Slim's television production studio scrapped a project it was working on with the candidate.
"His statement was totally out of line … working with someone so closed-minded was not going to work," said Slim's spokesman and son-in-law Arturo Elias, who added that Trump's remarks were racist.

A month later, New York's Gabriel Sherman reported that Trump blamed Slim and Jeb Bush for Univision's decision. "Trump believes it all goes back to Jeb," one of Trump's friends told Sherman. "He thinks Jeb and his wife, Columba, are close with Carlos Slim and Univision got pressure from Slim operatives."
Trump had a more positive view of Slim when he was asked about him in a 2013 interview — though there was a hint of tension. David Letterman got Trump to admit that while they're both billionaires, Slim is far richer. Trump looked uncomfortable and joked, "Now I don't feel so good when you mention Carlos Slim."
As for Slim, he's already denied that he's meddling in the U.S. election — or any election, for that matter. "This is totally false," Arturo Elias told the Journal. "Of course we aren't interfering in the U.S. election. We aren't even active in Mexican politics."