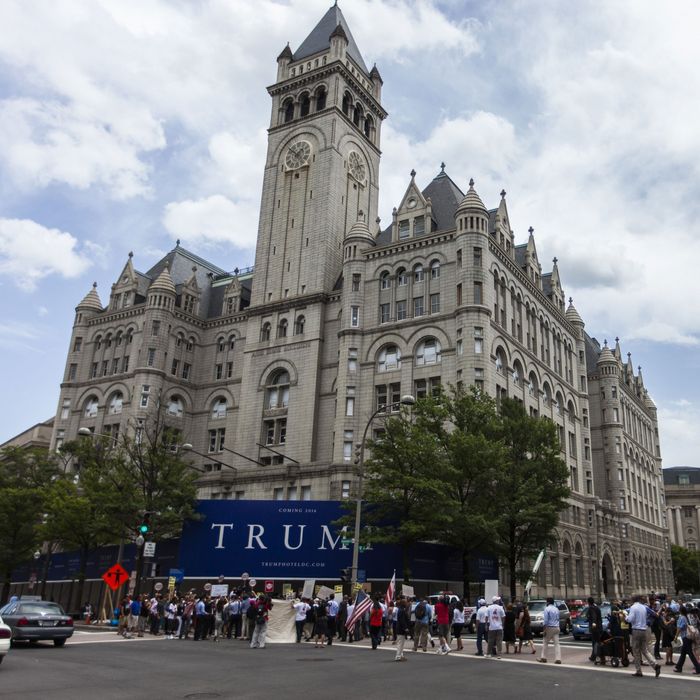 Not winning.
Photo: Anadolu Agency/Getty Images
It's now pretty clear that Donald Trump has been using his presidential campaign to promote his various business ventures. Remember when he touted his Turnberry, Scotland, golf course as a beneficiary of Great Britain's exit from the European Union this summer? But if Trump hoped his campaign would elevate the value of his brand, it looks like just the opposite is happening.
Trump's biggest disaster of the campaign — the revelations of a lewd tape in which he boasted about sexually accosting women — has led critics to throw more shade on his businesses. Fellow celebrity-billionaire Mark Cuban tweeted this on Friday night:
He might not be wrong. Take Trump's latest, most lavish venture: the Trump International Hotel in Washington, D.C., which has become a focal point for grievances against the unconventional Republican presidential candidate.
The 263-room five-star hotel in the historic Old Post Office building opened last month. But even with a prime location near the White House, swanky interiors, and aggressive promotion by the candidate himself, empty rooms have forced the hotel to reduce rates during a peak season. At the same time, the hotel has lost two planned restaurants, Hispanic employees are making claims of discrimination, and protesters are gearing up to do whatever they can to cause trouble for the hotel.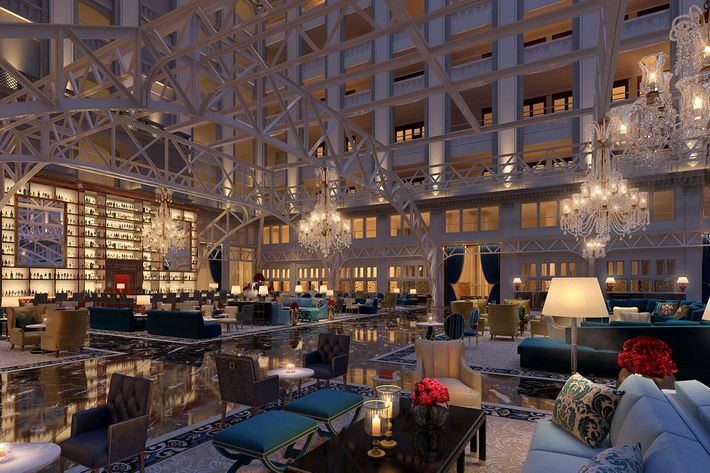 Some of the issues even predate Trump's presidential campaign: When the government inked a 60-year, $200 million lease with Trump in 2012, rival hoteliers took the unusual step of warning Uncle Sam that the deal could turn into yet another Trump business failure.
Those warnings look increasingly prophetic. While the break-even rate on the hotel rooms is more than $750 a night by some estimates, last weekend rooms could be had for under $500 per night — at a time when rival hotels were sold out weeks ahead of time. In his bid to win the lease, Trump promised to offer luxurious suites to lure business execs and diplomats, but many of the international elite appear to be avoiding it.
Last weekend bankers and dignitaries from around the world descended on Washington for the annual World Bank–IMF meetings. But just a few days before the conference, rooms were not only still available at Trump International, they were heavily discounted. On October 2, a deluxe room, with a rack rate of $805, could be had for as low $445 a night on Hotels.com. All other five-star D.C. downtown hotels were sold out. By Wednesday, October 5, weekend stays in the deluxe rooms were marked down to $404 per night on Trump International's own website. The more luxurious 500-square-foot executive rooms, with a city view and marble bath, were only $484. By comparison, at the Ritz-Carlton in Georgetown, the only available rooms were $1,139 per night, according to Hotels.com.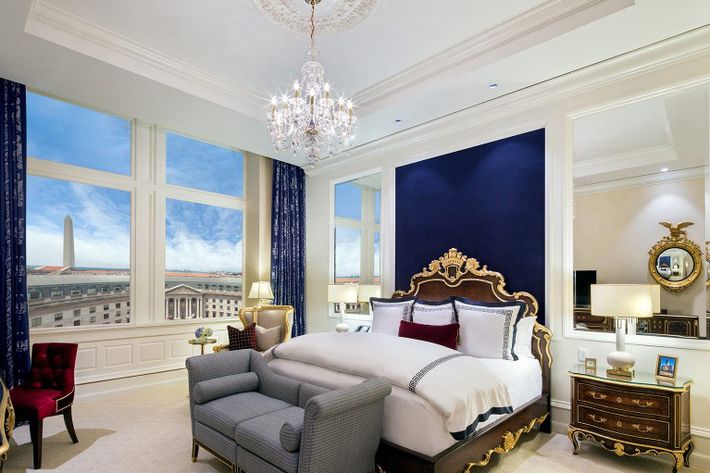 For a five-star hotel in downtown Washington to have vacancies during major IMF meetings is a little like having empty rooms when the Super Bowl is in town. "The reason why there were vacancies is the political atmosphere. People don't want to go there for fear that they would be asked, 'Why are you staying here?'" says Ada Pena, a travel agent with ABA Travel in Washington, D.C.
The explosive tape of Trump boasting of sexually assaulting women will only "aggravate that feeling, especially when there are other options," she says.
The hotel not only has a prime location and swank interiors, it boasts a branded Ivanka Trump spa, and tourist attractions related the building's old function as a post office. But none of that seems to be attracting guests.
"You don't see taxis stopping by like they do at the Marriott or the Willard, which are nearby," says Pena, who works in the area. "It's dark. There is no feeling of hospitality." Locals aren't eating at the restaurant for lunch either, she says.
"It's a shame that it is called Trump because it's a beautiful property. But overall, his brand is hurting," the travel agent adds.
The hotel's problems have only gotten more acute during Trump's run for president. After Trump made derogatory remarks about Mexican immigrants, celebrity chefs José Andrés and Geoffrey Zakarian pulled out of a commitments to open a restaurant in the hotel, both leading to legal disputes. And two weekends ago, the hotel's front entrance was spray-painted with graffiti stating "Black Lives Matter" and "No Justice No Peace."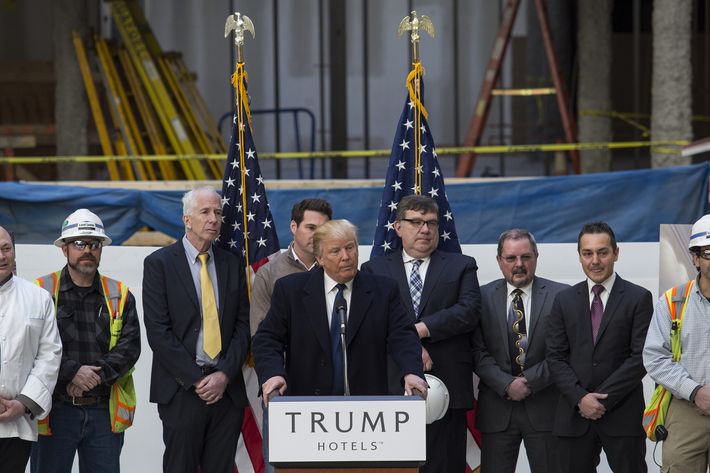 Trump won his lease from the General Services Administration with a bid $60 million higher than competitors like Hilton Hotels, Hyatt, and Marriott, all of whom complained to the GSA that his plan was uneconomic and would lead to another failed effort to renovate the property. The room revenues required to make the Trump bid work "are simply not attainable in this location based on the concepts for the redevelopment," lawyers for Hilton told the government.
In their April 16, 2012, letter to the GSA protesting the acceptance of Trump's bid, Hilton's lawyers warned that the government was setting itself up for a "devastating failure for the historical landmark with a business partner whose history of repeated failure demonstrates that it cannot be counted on to deliver what it promises." Eighteen pages of the letter detailed Trump's business failures and lawsuits against him.
Trump was forced to put more than $40 million of his own money into the deal after his first business partner, private equity firm Colony Capital, backed out. Deutsche Bank, the troubled German bank, is putting up $170 million for the project.
New York has also learned of allegations that the hotel is breaking labor laws by forcing some employees to speak English only, which the Equal Employment Opportunity Commission considers illegal discrimination. Hotel managers are forcing some workers whose native tongue is not English to speak English at all times, even in casual conversations among themselves, says Brent Wilkes, executive director of the Hispanic advocacy group LULAC (League of United Latin American Citizens).
In the recently released June deposition of Trump in his suit against Zakarian, the candidate said that his brand has not been hurt by his controversial campaign and may have been enhanced. "In Florida, at Mar-a-Lago [his Palm Beach private club] it's had a very positive impact. It's actually the best year we've ever had," he said. Trump said he received more votes in the Republican presidential campaign than any person in history, which could be a boon for his hotel business.
Trump, of course, continues to use his campaign to promote the hotel. "We're just opening up on Pennsylvania Avenue right next to the White House, so if I don't get there one way, I'm going to get to Pennsylvania Avenue another," he said during the September 26 presidential debate — possibly the first time such that forum has been used for brand placement.
Largely overlooked in the hoopla is that the GSA's deal with Trump also presents conflicts of interests, should he overcome his current deficit in the polls and win on November 8. If Trump International has trouble making good on the lease, as rival hotel companies warned, the government would be left negotiating with the president for a solution.
Correction: This story originally misstated the hotel in Georgetown that was offering rooms at $1,139 per night. It was the Ritz-Carlton, not the Waldorf Astoria.