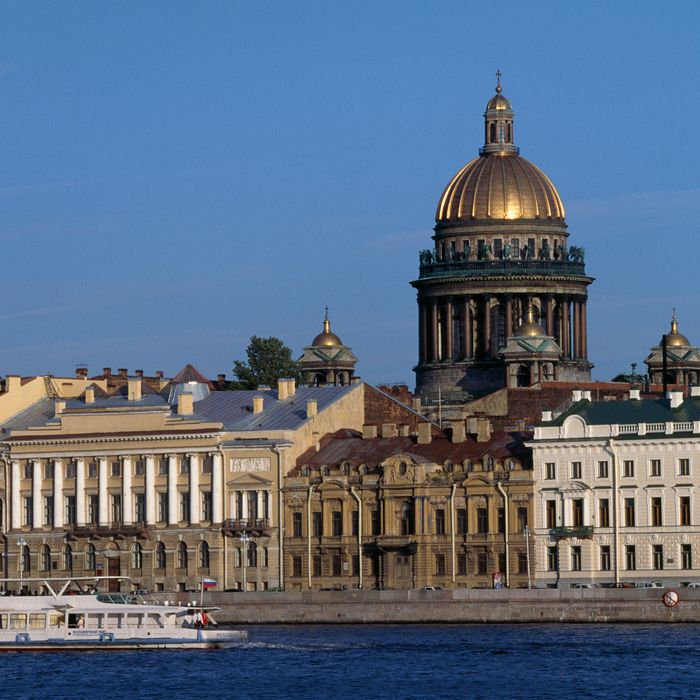 Photo: De Agostini/Getty Images
Two American diplomats in St. Petersburg were allegedly slipped date-rape drugs in their swanky hotel bar last November, in what the State Department believes is an ongoing pattern of harassment against U.S. diplomats by the Kremlin.
The two Americans, a man and a woman, were in the country for a U.N. anti-corruption conference, according to the RFE/RL. After the druggings, one of the Americans fell ill and was taken to a local clinic for blood and tissue tests. But before the samples could be taken, the electricity at the clinic mysteriously went out. The diplomat was then flown out of the country for treatment, but by that time the drug responsible for the illness was no longer detectable.
The State Department's response to the incident was muted. A "note of protest was lodged," an official told RFE/RL, and an investigation was launched. That investigation turned up little because the hotel where the druggings reportedly took place was unable to say who was working the night of the incident. So Russia told the State Department there was nothing that could be done.
On Tuesday, the Russian foreign ministry released a statement denying the U.S. version of events. It said an investigation was unable to turn up any proof of the druggings and suggested that the diplomats "had a little too much to drink in a hotel bar" and had only "themselves to blame."
The alleged drugging of two low-level diplomats is just one of many instances of harassment American officials and their families have endured at the hands of Russian security services. Tires have been slashed, and families followed home. Russian intruders have broken into the apartments of U.S. officials and rearranged their furniture, turned on faucets, or turned on all the lights before leaving. There are also reports of Russians taking dumps on the floors of diplomats. And then there are the physical assaults.
In June, a U.S. diplomat on his way into the American embassy in Moscow was tackled and pummeled by a Russian guard. The Russian foreign ministry said the diplomat, whose shoulder was broken in the attack, was actually an undercover CIA agent, and the guard was only doing his job.
Asked about the incident at a press conference Monday, State Department spokesperson Elizabeth Trudeau said, "We are troubled, we remain troubled by the way our diplomatic and consular staff have been treated over the past two years. We have raised our concerns at the highest levels. In particular, the harassment and surveillance of our diplomatic personnel in Moscow by security — personnel and traffic police — has increased significantly. As we've said before, we find this unacceptable."