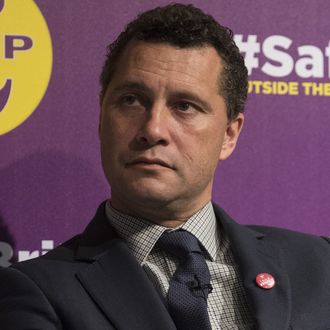 Photo: Ray Tang/Anadolu Agency/Getty Images
Steven Woolfe, the man who wants to take over the pro-Brexit U.K. Independence Party from Nigel Farage, was hospitalized Thursday after a fight with another UKIP member caused him to collapse and hit his head.
The fight took place in the European Parliament building in Strasbourg, where party members were meeting to discuss its ongoing leadership crisis. At the meeting, UKIP member Mike Hookem reportedly confronted Woolfe over reports that he considered leaving the party to join with Theresa May's Conservatives.
"Steven Woolfe has then taken his jacket off, walked over and said: 'Right you, outside now' or words to that effect," the source told the Guardian. "They went outside and Steven Woolfe got the brunt of it."

It is understood that Woolfe walked away from the alleged fight at around 10am and appeared well enough to vote in the parliament half an hour later. However, he left midway through the vote and collapsed on a walkway at around 12.30pm.
The Guardian is reporting that Woolfe had two "epileptic-like fits" and experienced numbness before receiving treatment. According to a statement released from the hospital, Woolfe is doing better. "I am feeling brighter, happier and smiling as ever. I am sitting up and said to look well. The CT scan has shown that there is no blood clot in the brain. The only consequence at the moment is a bit of numbness on the left hand side of my face. I am being kept in overnight awaiting secondary tests to make sure everything is fine."
Farage, who has actively campaigned for Trump in the U.S., didn't seem pleased. "You see third world parliaments where this sort of thing happens," he told The Telegraph. "It's not very grown up. What's happened is not good."