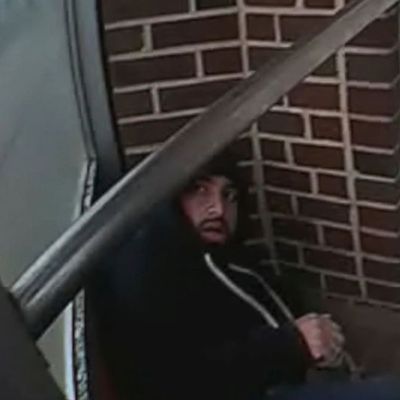 Ahmad Rahami, as seen from the police body cam.
Suspected bomber Ahmad Khan Rahami pleaded not guilty to attempted murder in New Jersey earlier this month, charges that stem from his shoot-out with police in Linden on September 19. Officers found Rahami, who is accused of planting explosives in New York and New Jersey in September, sleeping in the doorway of a local bar before the suspect tried to flee and fired on police. (Rahami was wounded in the shoot-out.)
Police body-cam footage that shows Linden cops' discovery of Rahami has now been published. In it, a cop pulls up in his car and tells the suspect, "You can't be sleeping on somebody's door." Rahami appears to respond, though the audio is fuzzy. The officer gets out and approaches Rahami, who's lying sprawled in the entrance of Merdie's Tavern, hoodie pulled tight around his face. The cop asks Rahami for his name and ID; the suspect says he's doesn't have one and that he's homeless. "I had lost my job and I couldn't pay my rent," he says.
The clip cuts off right after that; according to ABC News, which obtained the footage, the film of Rahami trying to get away, and of the shoot-out, is evidence in the case and can't be released.