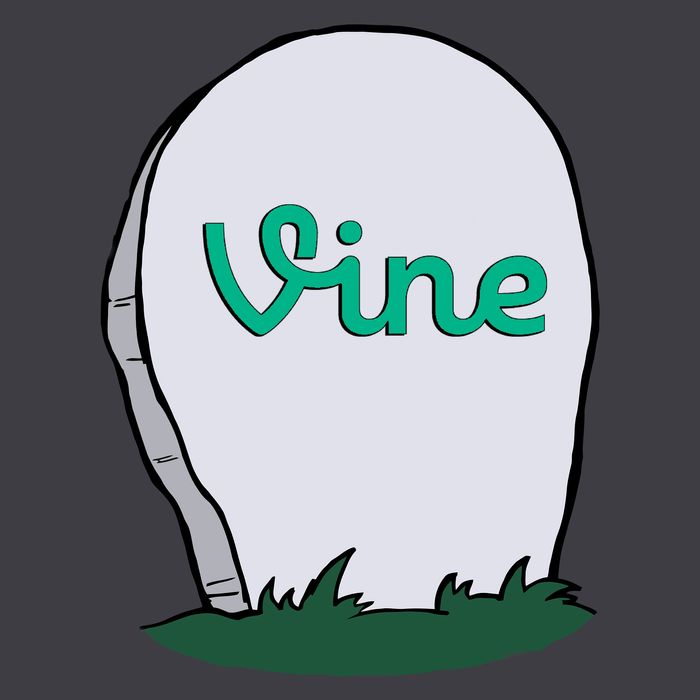 Here lies Vine. An app that burned too brightly and too weirdly to survive in this cruel world.
Twitter's announcement yesterday that the company would be discontinuing the video-sharing app Vine may have seemed to come out of the blue, but there was at least one group of people who weren't caught unawares: the teenagers who were once the app's most devoted users. "It's not surprising," 14-year-old Sam told me when I asked what he thought about the move. "Nobody really uses it anymore." Back in May, when The Wall Street Journal pointed out that people (and some advertisers) were leaving the app in droves, Sam was one of the few teens I spoke to who told me he and his friends still used the app. "We all love it. It's hilarious." the North Carolina high-schooler said back then. (What a difference a few months makes.) Now, he says he and his cohorts use other apps for entertainment. "People mainly post things on Instagram and Snapchat."
That's sad to hear about Vine, which was once synonymous with incomprehensible teen-internet idolatry, to the extent that an entire YOLO-like mantra of self-encouragement arose in its wake: "Do it for the Vine." The app burst onto phones of teenagers and college students across the U.S. in 2013, shooting up to the top five on the Apple app-store charts, thanks largely to the fact that the app made it simple to point, shoot, and edit together video clips in a time when other platforms hadn't made the leap into the waters of video. Twitter and Instagram had yet to introduce video features, and Snapchat was still on the rise. That the videos were only six seconds long was a feature, not a limitation — it meant there was no pressure to do anything more than fire off a goofy joke, four-line skit, or athletic stunt.
Vine videos, perfect as they were for displaying charisma and charm in miniature, quickly gave rise to a relatively new phenomenon: the Vine Stars. Young, usually attractive, and sometimes genuinely funny people like Lele Pons and Nash Grier, who grew enormous followings from their antics on the app, were able to leverage those followings into lucrative branded deals and even genuine fame. If you don't know what I mean, tap the nearest young person you can find and ask them. They'll likely know Pons and Grier.
But where are Grier and Pons now? On YouTube and Instagram and Snapchat. "I think a lot of people watch similar videos on Twitter and Instagram nowadays," Arman, 15, said. "A lot of people who got big on it moved on to YouTube and other things," a 19-year-old New Yorker named Anna explained. Most of the people who rose to fame on the app have long since ditched the Vine label, preferring the greener pastures of larger platforms with more opportunities for cash — unlike YouTube, Vine provides no method to easily monetize your video.
Nash Grier jumped from being a Viner with 12.3 million followers to starring in a feature film called The Outfield, which peaked at the number-one spot on the iTunes downloads chart last year. (Co-stars included fellow ex-Viner Cameron Dallas and Disney Channel actor Joey Bragg.) Andrew Bachelor turned 16.2 million followers into roles on shows including The Mindy Project. (At 28, the comedian and actor is one of the oldest people to find mainstream fame through Vine.) Lele Pons now has her own jewelry line. And Simone Shepherd, a Viner with more than three million followers, told The Wall Street Journal that she and many other Vine stars were moving their content over to Facebook, where the recent focus on all things video meant more eyes on their content and more opportunities to work with advertisers and brands. (Viner Jon Paul Piques was even paid a reported $116,000 by Facebook to record five Facebook Live videos between July and September of this year.) Vine was a great platform if you wanted to make a name for yourself online, but if you wanted a lucrative gig you had to be able to make the jump to a different platform. Six seconds was enough time to get you noticed, but not enough to build a sustainable career.
"We all saw it coming; it's just a bit sad now that the day is actually here," Vine star Logan Paul, 21, told me when I asked him about the Vine shutdown. In recent months, Paul has moved away from the platform, signing deals with major brands like Pepsi and starring in an original feature film from YouTube Red. He still has over 9 million followers on the now-defunct app. The last thing he posted on Vine was a clip back in April which was essentially a promo for his appearance in an episode of Freeform TV show Stitchers. Now, he vlogs daily from YouTube instead. "Vine literally changed my life and opened up a whole new world for me," Paul said — but that new world is larger and more mainstream platforms with vastly larger audiences.
And so, within just a few years, Vine had created an entire star system — and then lost it entirely. Of course, Vine stars' departure didn't need to be a critical blow to the service. After all, the majority of the most famous and beloved Vines — like the video of a kid yelling "What are those?!" at a cop's sneakers — weren't made by the service's biggest names, and even now teenagers are still creating wickedly funny (and wickedly stupid) videos for the service. But Vine stars brought a big audience with them, and the loss of that audience meant fewer people looking at the social network, period. The few teens who told me they still used the app regularly were only using it as a media player, and rarely, or even never, created their own. "I still use Vine a lot, " Maryland teenager Cole said. "Probably about three times a week. I'll watch Vines with friends if I have nothing to do."
"I've used Vine a few times before, but that was years ago when I wanted to see what the hype was," 13-year-old Jenny said. "Barely any" of Jenny's friends use the app today. "I think a lot of the problem was it [Vine] was saturated with people who ended up wanting a career in entertainment," Anna added.
Meanwhile, and maybe just as important, larger social networks like Instagram (and Vine's parent company, Twitter), had made video-sharing as easy and intuitive. Why stay on Vine when you have a chance at a bigger audience on Instagram or Snapchat? "I honestly stopped making Vines in early 2014," Anna told me. She said when she gave up on Vine, she gravitated over to YouTube instead. "I don't think enough emphasis was placed on the creators and how to keep them happy and engaging on the app," Logan Paul told me. "Obviously there was competition, but I don't think we viewed one platform as more valuable than the other until we realized that Vine wasn't helping us much."
Vine may never have had a chance: The simplicity of its interface and format enabled an enormous amount of creativity, but it also paralyzed; if you lengthen videos (as Instagram did) or add messaging (à la Snapchat), will you upset the delicate balance that made Vine work? It's possible Vine could have reinvigorated itself with new features or advertising products, but we'll never know: Twitter did very little to attract an audience, and in the months before its death, Vine slumped down to below the 200th spot on the app store, never to return to its former glory.