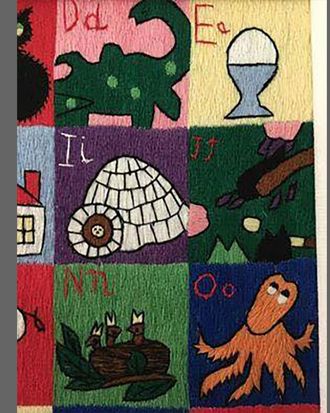 Here is an excellent Friday-afternoon mystery, courtesy of Reddit's /r/whatisthisthing. Today's mystery is brought to you by the letter J. Which stands for … nobody knows. Which is why we're here today.
A week ago, redditor sarahafrantz posted a picture of a section of what appears to be a rug designed to teach the letters of the alphabet to small children and internet bloggers. Each letter corresponds to a clear image of a noun: A is for apple. E is for egg. D is for dinosaur. And so forth. Except for J, which appears to be a variety of incomprehensible shapes on a dark-green background.
I, for one, am baffled. The pink and purple blobs at the top appear, to me at least, like the hooves of a cartoon sheep. But there are also purple raindrops, a brown and black blob that looks like the kind of hand broom you keep under your kitchen sink, and a set of pale green mountain peaks along the bottom of edge of the square.
Since the image was posted, many a redditor has offered their take on the carpet square, but still, no consensus has been reached. Here are some of the best guesses:
"It's a broom. The janitor is cleaning up. (and the drop-like things are motion lines. Badly done, but motion lines to indicate sweeping back and forth.)"
"Someone thought it was maybe an aerial jumping photo and we are seeing their feet mid jump. But that seems too advanced for a child."
"Yeah, I'm on Team Junk. It's clear from the whole quilt that every other block is a noun, not a verb, and that the noun in question is entirely depicted. So, 'jump' would be very out of place."
"I believe it's a Juniper tree branch. I'd say Chinese Juniper, if you want to get specific. This also makes sense for purchasing it in South East Asia, because many Bonsai trees are made from Chinese Juniper trees."
At this point I'm starting to think J is for Just go with it, dude. J is whatever you want it to be! Labels are for squares! If you have any idea what this monstrosity actually is, please sound off in the comments or slide into my Twitter DMs so I will finally be able to get some sleep and stop thinking about this dumb letter.