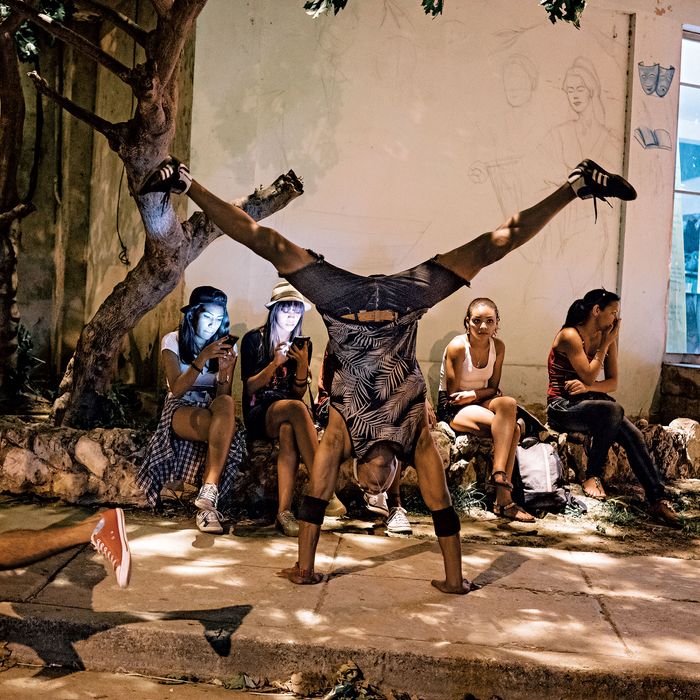 Break-dancers in front of Catedral del Picadillo, in the neighborhood of Jaimanitas.
Photo: Greg Kahn
After decades of embargo and heated rhetoric (and a covert mission or two), the U.S. and Cuba decided last year to shake and make up. The U.S. Embassy (closed for the last 54 years) reopened in Havana. Then came Obama's historic visit to the island, the first by a sitting U.S. president since 1928. At the same time, Cuba's government, which has tightly controlled access to information and technology, set up state-run Wi-Fi hotspots across Havana. Whereas previously news, culture, and trends from around the world trickled in slowly, teenagers now find themselves swimming in information and ideas — via both their smartphones and a clandestine media-distribution network known as El Paquete. This August brought a new milestone when JetBlue began offering the first direct flights between the countries since 1961. Havana teenagers grew up in relative isolation, yet we discovered through interviews with more than 30 teens that, despite their upbringing, they're ambitious and savvy — and excited about their new place in the wider world.
The Cliques of Havana
The city has always had "urban tribes," says CUNY anthropology professor Katrin Hansing, who has been researching Cuban society for two decades. In recent years, though, they've become easier to spot as their signifiers (clothes and the like) have become more available to some Cubans. "In general, you can look at these groups and make some assumptions about race and class," she says. Mikis, for example, tend to be whiter and a bit wealthier.
Miki
The preps: brand-conscious pop-culture enthusiasts; named for Mickey Mouse.
"Passion for American pop culture, that's what makes us miki. Mikis have more economic possibilities. To be miki is not only to listen to the music or wear the clothes, it's also to have knowledge of what's happening outside, to have a more fashionable phone, to have the latest computer, the latest games. They're like the millionaires of Cuba." —Ananda Fernandez Fernandez, 18
Listening to: Taylor Swift, Chris Brown
Repa
Lovers of reggaeton, with a hip-hop swagger.
"That's how you can tell they're repa, from the music they listen to. And they wear shirts with zippers on them." —Alejandro Quintana Mirabal, 15
Listening to: Chocolate, Harrison, Yomil y El Dany
Gothica/Emo
Turns out goth is goth, even on a Caribbean island.
"There's gothica and emo. They're people who are always in black and who like things with skulls, and they have black hair that completely covers one eye, people who don't laugh much and are very reserved." —Gabriela Benitez, 14
Frikis
Lovers of all the 'cores — hard-core, metal-core, death-core. Very freaky.
"We're frikis. Frikis listen to rock and nothing else — hard-core. Frikis dress in black and have tattoos and have spacers in their ears — like me. They have bracelets with spikes. It's like punk, but more modern." —Julio Samuel Garrido de Pedro, 15
Listening to: Chelsea Grin, Linkin Park
Rasta
No translation necessary.
"They have dreads and smoke marijuana." —Fernanda Anavitarte, 15
Listening to: Bob Marley, Wiz Khalifa
Hipsters
A little more classic rock than their American brethren.
"The more retro are called hipis, or hipsters. They like Bob Dylan or Bob Marley." —Mariana Celis, 17
Additional reporting by Richard Morgan.
Mandatory Schooling Ends at Around 15 – But That Doesn't Mean Independence Begins
Based on their marks through the tenth grade, teenagers receive either vocational training to prepare them for a job or, less often, coursework to prepare them for college. Since the country pays taxi drivers more than doctors, Cuban teenagers tend to be less interested in higher education, according to CUNY's Hansing.
"We leave school at 15. Early, no? But we stay with our parents until maybe 20 or 21. Maybe more. It helps me a lot. I need to be home at ten or 11, depending on the night. But this is not a rule. Maybe a suggestion. I am not a prisoner. My parents are giving me good habits. I don't feel stupid asking them a question, just like I didn't feel stupid asking a question in class. That is how you learn. They taught me how to use money. How to cook. How to clean my clothes. Did your parents teach you these things?"—Rafael Martínez Silva, 17
School Days Are Long and Demanding
"The schedule isn't fair. We have to get up at six in the morning and stay until five in the afternoon: 11 hours, working all day. My hand hurts from all the writing. When you get out of school, you're so tired." —Julio Samuel Garrido de Pedro, 15
And When They Grow Up …
"I'm planning to study medicine. It's a good life to be a doctor because you can travel out of the country and also help people here in Cuba. Or I'll go to Europe and be a soccer player." —Jesus Sanchez Baño, 15
"I'm doing career training in social work. I can make sure everyone is working and has a job, so that everyone is integrating into society and has a place." —Marco Sanchez, 16
"I'll graduate high school in two years and then I'll start my own Wi-Fi hotspot. It's a good job. I'll stay in Cuba. It's my country. I like everything here." —Milton Jimenez (a.k.a. El Cabo), 18
"I'm in pre-university. I want to go to film school. I want to be in production. I love Italian film and classic Cuban cinema." —Mariana Celis, 17
Where They Hang Out
Anyplace with Wi-Fi, for starters.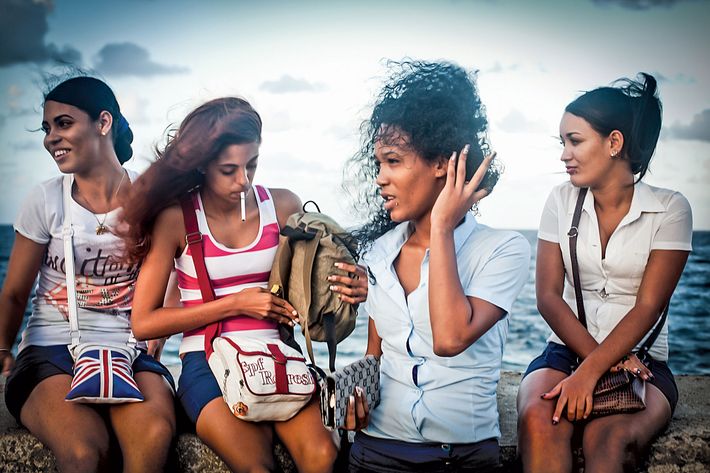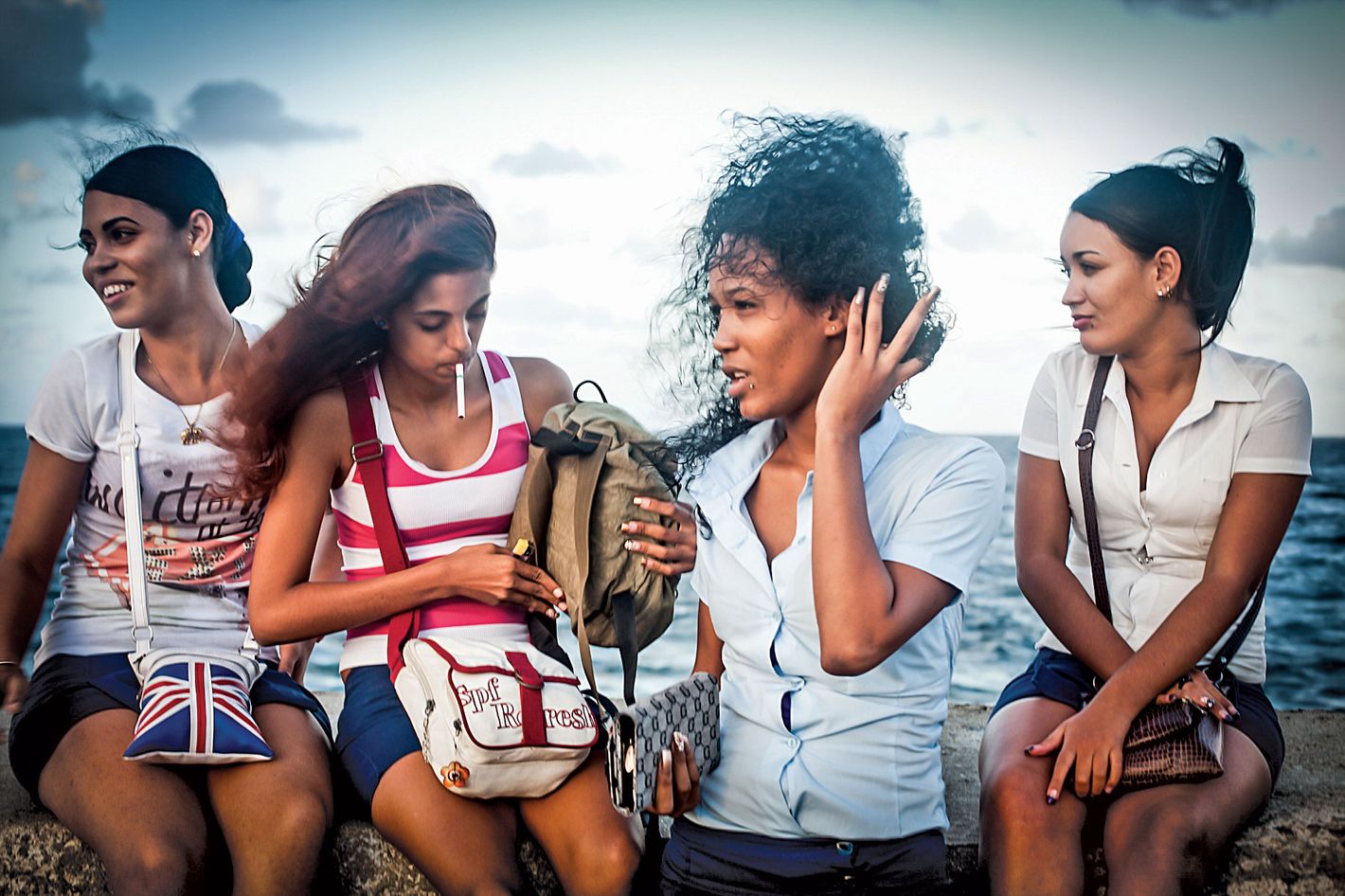 Most homes don't have internet, so teens gravitate to the city's 35 Wi-Fi hotspots. "Increased access to the internet has changed the ways that Cuban young people forge identities," says Joshua Jelly-Schapiro, a Cuba scholar at the Institute for Public Knowledge at New York University. "Even back in the early 2000s, it wasn't uncommon to meet a group of frikis who took all of their cultural cues, sartorial and sonic, from a scratched Clash CD that they passed around and took turns listening to. Today, such consumer goods may remain beyond the reach of most, but everyone's got a cousin from New Jersey or Hialeah who comes down bearing gifts a couple times a year."
Still, broadband remains slow, and even the $2-an-hour charge at Wi-Fi hotspots can be too expensive for teenagers. "The result, in Havana today, is a city where young people have greater access to the sounds and look of global youth cultures — but where the main way they find each other, and build ideas about their future, remains refreshingly old-fashioned: They congregate and talk, not through machines but face-to-face, in public." For instance, on the broad boulevard of G Street or the Malecón, the waterfront promenade, where they go to see and be seen — and flirt. "We come here to chat with girls. We talk to them on Facebook and then meet them in person," says Milton Jimenez, 18. "You can find a girlfriend in the street; just tell her that you feel for her."
One Result of Less Broadband: Romance That's (Sometimes) More Innocent
"People say this word, sex, as if it is one aspect. I have tried. It is many, many aspects. Kissing is part of sex! Only a kiss! The people who only talk about sex and people who really have had sex reveal themselves by how they discuss kissing." —Juan Hernán Castillo Morales, 18
"My brother worked for Furious 8 here. He was going to help me meet Vin Diesel and get a photo. I was going to show the photo to a girl from my school. But the movie finished here. So, no, I have not had sex. Because Vin Diesel returned to the U.S. too soon." —Vladimir González Campos, 14
The Teen Must-Have Is El Paquete
Each week, a network of pirate aggregators gathers a terabyte of the latest media from all over the internet and distributes it across the island. Cubans can buy the whole Paquete, or pick what they want à la carte and transfer it to their own flash drives.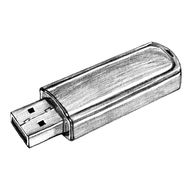 "The Paquete: This is the Cuban internet. It has everything that's released that week: videos, TV shows that are coming out, YouTubes, apps — everything that's new." —Frank Pino, 14
"I don't know where the Paquete comes from; it's a chain. You copy it for me, I copy it for someone else, another person copies it, then another. It costs one or two dollars." —Julio Samuel Garrido de Pedro, 15
What's Popular
"Everyone has Zapya. It's an app for sending things from one phone to another without Wi-Fi [by creating a hotspot] because there's not internet everywhere." —Jesus Sánchez Baños, 15
"One of the most popular things [on El Paquete] is PewDiePie [the Swedish video-game vlogger and YouTube star]. He's so funny. It's in English, but we understand it, more or less." —Frank Pino, 14
"Almost everyone likes American Pie." —David Quintana Lazcano, 17
The Field of Dreams Is No Longer a Baseball Diamond But a Football Pitch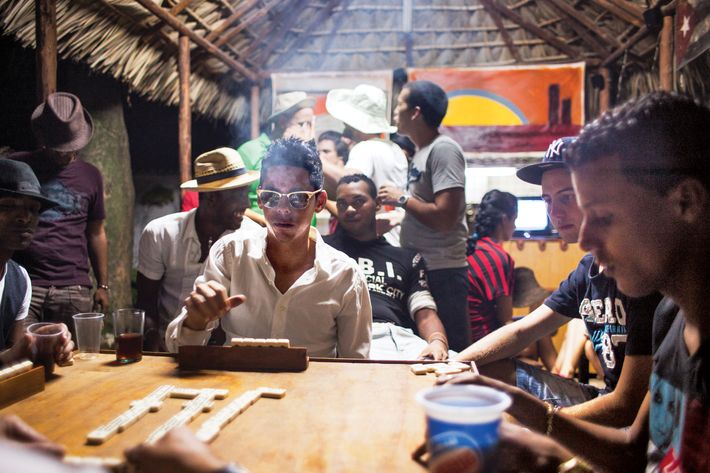 "In Cuba, the official sport is baseball. But for all the young people, the thing we like is soccer. If you go to a baseball stadium here in Cuba, you'll see few young people, only older people. Before, to follow soccer in Cuba, you almost couldn't. Now that you can see international games, in whatever park you go to in Havana you'll see soccer played." —Jesus Sánchez Baños, 15
They're Skeptical of American Influence, Even While They Fantasize About Partying in the U.S.
Not everyone is impressed with the new tourists.
"Americans come here and think they are the first man on the moon. The French are here. The Australians are here. The Germans are here. The Arabs are here. Even the Chinese are here. To Americans, every merchant says, 'My friend! My friend!' But I wish they would just say, 'You are late.' " —Juan Gustavo Montes Rual, 17
"Everybody knows that the United States has always wanted Cuba as a colony. But I don't blame the people of the United States for anything. It's the American government; the people have nothing to do with it." —Leonardo Hernandez Domingues, 19
And Cuban-style socialism has its benefits.
"Here, everyone can work, everyone. It's not like capitalism. Here, even if you're poor, if you don't have a house, you can work. You can get a license and sell Popsicles. And then you can eat." —Marco Sanchez, 16
(Access to consumer goods not being one of them.)
"In terms of fashion here, now it's a little more open because of the interchange between the United States and Cuba and seeing the styles in other countries, in Europe and the United States. Now there are more options, but the economy is still bad. It's very difficult to get the clothes of the moment because of the price. You can't. Adidas is popular here. Nike also, and Converse." —Mariam Perez Perez, 19
Two kids on G Street explain America's virtues.
David Quintana Lazcano, 17: Not many people have house parties here. Not like in the United States, where people party in their houses.
Julio Samuel Garrido de Pedro, 15: In the United States, people are partying all the time!
David: Beer pong!
Julio: It's the best in the world. For me, it's like God invented the United States. Shirts, shorts, sneakers, everything is cheaper. There are more parties.
David: And women!
Julio: It's another world. Another world.
"I like the tourists. I can't travel much, so I like that people come to Havana from all over the world. Meeting them is like a vacation. A very small vacation." —Jairo Díaz, 17
"The most popular soccer teams are Real Madrid and Barcelona. The most popular baseball teams are the [Havana] Industriales, the Matanzas [Crocodiles]. The best American teams are Los Boston and Los Yankees." —Carlewis Mesa, 13
*This article appears in the October 17, 2016, issue of New York Magazine.