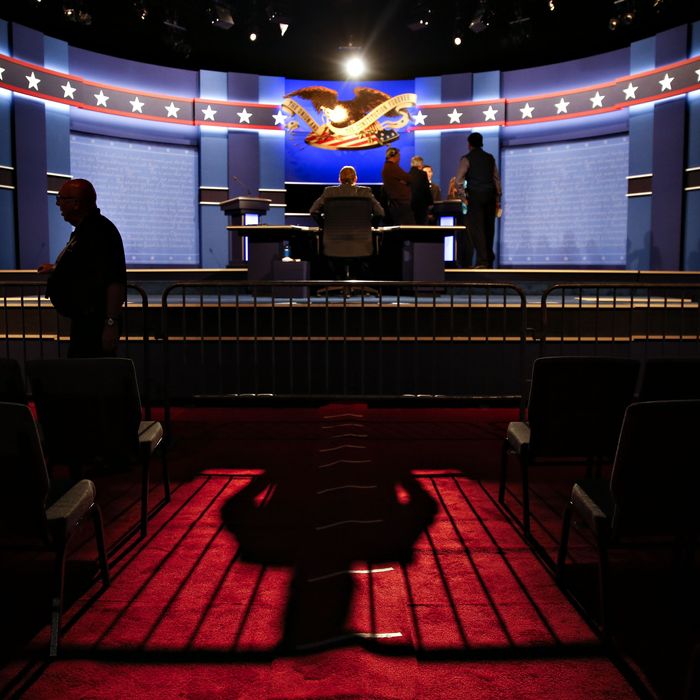 A moderator stand-in casts a shadow on the floor during stage preparations for the third presidential debate in Nevada on October 18, 2016.
Photo: Daniel Acker/Bloomberg via Getty Images
If anyone still needs proof that this is the nastiest presidential race in recent memory, here it is: Protocol for the final debate has been altered to ensure that the candidates' spouses won't have to shake hands. There's no Bill Clinton–Melania Trump beef, as far as we know. The New York Times reports that the Clinton camp pushed for the change after the Trump campaign tried to stage a nationally televised confrontation between the former president and three women accusing him of sexual misconduct before the last debate.
There's a feeling that we've yet to hit rock bottom in the 2016 campaign, and it could come when Hillary Clinton and Donald Trump have their final face-to-face meeting on Wednesday night — or they'll discuss policy matters for 90 minutes and everyone will complain that the debate was boring. Either way, we'll be here to guide you through it with Andrew Sullivan's liveblog and complete debate coverage from the New York politics team.
When and where is the debate being held?
The University of Nevada, Las Vegas. The debate will run from 9:00–10:30 p.m. EST with no commercial breaks.
Where can I watch it?
Pretty much anywhere. In addition to airing on all major networks and cable-news channels, Twitter, Facebook, and YouTube will have livestreams. You'll also find feeds on many websites, including C-SPAN, CNN, and Politico. If you're open to the possibility of getting into a fight with one of your neighbors, Regal Cinemas will be showing the debate for free at select locations.
What's the format?
It will be exactly the same as Clinton and Trump's first debate. These are the rules set by the Commission on Presidential Debates:
The debate will be divided into six time segments of approximately 15 minutes each on major topics to be selected by the moderator and announced at least one week before the debate.

The moderator will open each segment with a question, after which each candidate will have two minutes to respond. Candidates will then have an opportunity to respond to each other. The moderator will use the balance of the time in the segment for a deeper discussion of the topic.
Usually the two candidates are seated during the third presidential debate, but Clinton and Trump have decided to stand at podiums. There's no rule that the candidates must be seated for the final debate, but Executive Director Janet Brown told the Las Vegas Review-Journal that "the commission is fond of the seated format." She explained:
We started using it in 2000 at the (vice presidential) debate, the (Joe) Lieberman-(Dick) Cheney debate, with Bernard Shaw moderating, and it was great. … It has a totally different feel. It's more civil when you are seated. It just changes the physical dynamic. We used it in the VP debate this year, too, and it was a positive piece of how that debate went.
Brown explained that a "pool" crew from Fox News will produce the show, but every network will have access to the feed from each camera. That means each network can supply its own graphics, and choose when to go to split screen or feature a particular candidate.
Who's moderating?
Chris Wallace, host of Fox News Sunday and son of the late 60 Minutes legend Mike Wallace. Wallace co-moderated three GOP primary debates in this cycle, but he's the first Fox News journalist to moderate a general-election debate. Wallace told colleague Bret Baier on Sunday that it's a proud moment for the network. "I think it's a recognition of the fact that we do serious journalism. Some critics say no, but you and I know we do, and here's the Commission on Presidential Debates recognizing that," he said.
Years ago, the selection of a moderator from the right-leaning network would have drawn protests from the left, but Democrats have mostly accepted Wallace for several reasons.
Thanks in part to Trump, there's great turmoil within Fox News; Wallace aligns with the Establishment Republicans who are under attack from the candidate, not Sean Hannity and his ilk.
Wallace is known for asking tough questions and has had contentious exchanges with both candidates. In July, he pressed Clinton on Benghazi and her emails, and Trump attacked him for asking about his bankruptcies in the first debate. In April, Wallace said Trump was getting too much coverage on cable-news networks, including Fox.
There have been a few complaints about Wallace. Media Matters said he should not be allowed to moderate because former Fox News CEO Roger Ailes is advising the Trump campaign. And some journalists objected when Wallace said in September that he doesn't think it's the moderator's job to be the "truth squad." He said days later that he'll interject if necessary, but he'd prefer not to. "You make yourself too big a figure as moderator in the debate, it's not a debate anymore," Wallace told Brit Hume. "It's like a couple of side-by-side news conferences and I don't think that is your point."

What topics are likely to come up?
According to the Commission on Presidential Debates, Wallace has selected these topics for the six segments: debt and entitlements, immigration, economy, Supreme Court, foreign hot spots, and fitness to be president.

As NBC News notes, in the ten days since the last debate, many new controversies have emerged, including the sexual-assault allegations against Trump, more leaked emails from Clinton campaign chair John Podesta, and Trump intensifying his claim that the election is being "rigged" against him.
How are the candidates preparing?
One of Clinton's best moments in the first debate came when Trump mocked her Hermione Granger–esque tendencies. "I think Donald just criticized me for preparing for this debate," Clinton said. "And yes I did. And you know what else I prepared for? I prepared to be president. And I think that's a good thing."

Clinton is sticking to that strategy. NBC News reports that she hasn't made any campaign appearances since Friday, and she spent Saturday and Sunday doing lengthy debate-prep sessions. As usual, longtime aide Philippe Reines is playing Trump in mock debates.
On Monday, Trump campaign manager Kellyanne Conway mocked Clinton for devoting so much time to debate prep, saying, "He's not taking five days off the trail like she is. That's her personal choice. I know scarcity is her strategy. The less people see her, the more they forget they don't like her, they don't trust her."
Jennifer Palmieri, Clinton's communications director, said they know there's a cost to spending so many days off the campaign trail, "But we have found that that is very worthwhile. This is the last one. We are hoping for another large audience, and it's her last time in front of the biggest audience, and we want to make sure we're [making] the best use of that."
Sources told ABC News that Trump has been holding more focused debate-prep sessions this time around, though he still isn't doing mock debates. He spent Sunday rehearsing at his golf course in Bedminster, New Jersey, with New Jersey governor Chris Christie firing questions at him. On Monday, Alabama senator Jeff Sessions helped Trump prepare for the national-security segment.
What's each candidate's goal in the debate?
In the first two debates, Clinton successfully baited Trump while trying to stay above the fray. She got a bump in the polls both times, but as The Wall Street Journal's Gerald F. Seib explains, with Trump imploding it might be smarter to put Michelle Obama's "when they go low, we go high" into practice:
If his goal is to make marginal and undecided voters feel bad about voting for her, and perhaps to simply stay home as a result, then it's entirely possible that her slugging it out further with him will have that effect. The one great danger still facing her campaign is low intensity and weak turnout, so her incentive may be to give more voters more positive incentive to show up.
A Trump campaign source told ABC that his goal is to reassure the GOP base, but his actions say otherwise. Since the last debate, Trump has only delved deeper into far-right conspiracy theories. He's called for Clinton to be drug tested before the debate (probably in response to questions about his debate sniffing), and announced that he's bringing a Benghazi victim's mother and President Obama's half-brother to the debate (he's a Trump supporter, but it's unclear why Obama family drama is supposed to unsettle Clinton).
Clinton may be planning to "go high" on the debate stage, but she's not above issuing invitations to Trump's foes. Billionaire Mark Cuban revealed that he's attending the third debate as a guest of the Clinton campaign.
Cuban said he tried not to draw Trump's attention when he attended the first debate because he didn't want to give him an excuse for a poor performance. "I'm going because it's an amazing experience," Cuban said. "Maybe this time I'll try to get in his head."
She's also invited Hewlett-Packard CEO Meg Whitman, one of the most prominent Republicans to endorse Clinton.
Brian Fallon, Clinton's spokesperson, said she can handle anything Trump does at the debate. "Whatever scorched-earth tactics he has planned for the debate, we will be ready and she will be unfazed," he told the Times.