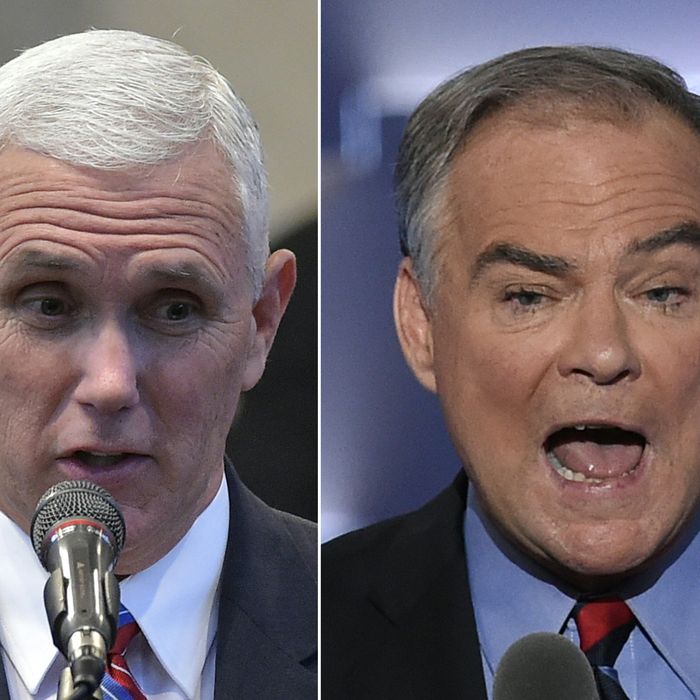 Photo: MANDEL NGAN/AFP/Getty Images
For 90 minutes on Tuesday night, America will get a reminder of what politics was like before it was taken hostage by a reality-TV star. While Hillary Clinton and Donald Trump spent much of the last debate lobbing insults at each other, their running mates are the opposite of combative and colorful — unless you're into harmonica music. Mike Pence, the Republican, is the soft-spoken governor of Indiana, and a former six-term congressmember. Tim Kaine, the Democrat with "nice dad charm," as Bustle put it, is the U.S. senator from Virginia, and the state's former governor. They're expected to try to win over undecided voters with a relatively calm debate focused on policy issues (though, if they really wanted to win over Americans, they'd agree to let Joe Biden and Paul Ryan debate again in their stead).
Here's a guide to get you up to speed for the Pence-Kaine showdown. Be sure to check back tonight for Andrew Sullivan's liveblog and complete debate coverage from the New York politics team.
When and where is the debate being held?
Longwood University in Farmville, Virginia. The debate will run from 9:00–10:30 p.m. EST with no commercial breaks.
How can I watch it?
The debate will air on all major networks and cable-news channels. You can also stream the debate online via Facebook (with ABC News coverage), Twitter (with Bloomberg coverage), and YouTube (with coverage from PBS, Fox News, Telemundo, Bloomberg, NBC News, and the Washington Post). You'll also find feeds on many websites, including C-SPAN, CNN, and Politico. Basically, it'll be hard to avoid.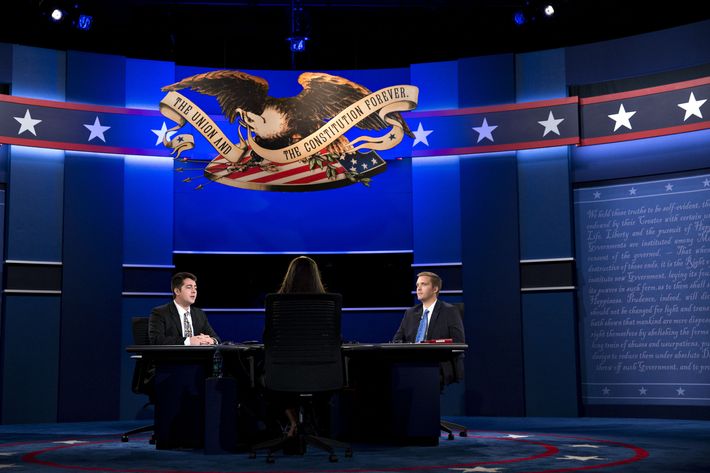 Who's moderating?
Elaine Quijano, a CBS News correspondent and anchor for CBSN, the network's 24-hour streaming-news service. Quijano, who is Filipino-American, will be the first Asian-American to moderate a general-election debate. At 42, she's also the youngest moderator since Judy Woodruff moderated in 1988 at 41.
What's the format?
According to the Commission on Presidential Debates, the forum will be divided into nine segments. Each section will begin with a question from the moderator, and the candidates will each have two minutes to respond. The moderator will use the rest of the time for "a deeper discussion of the topic."
How are the candidates preparing?
Unlike certain candidates we could name, both Kaine and Pence appear to be putting a lot of effort into debate prep. Pence's spokesperson, Marc Lotter, told NBC News that the governor "developed a plan" shortly after he joined the ticket to "make sure he had the time and information he needed to be prepared for the debate." Pence has been going through debate-prep binders since the Republican National Convention, and he's had several mock debates with Wisconsin governor Scott Walker playing Kaine.
Democratic campaign aide Mo Elleithee, who has worked with Kaine during his Senate and gubernatorial campaigns, told ABC News that Kaine usually begins debate prep by studying on his own. "He doesn't have a pair of lucky debate socks or anything crazy," Elleithee said. "He takes his prep seriously, spends a lot of time thinking about how he wants to frame the arguments he wants to make."
Kaine has been prepping for the past few days in Raleigh, North Carolina, and his hometown of Richmond, Virginia. Washington attorney Bob Barnett is playing Pence in mock debates. Barnett has been part of Clinton's debate prep team for decades, most recently playing her primary opponent Senator Bernie Sanders.
Last month, Kaine told reporters that the challenge this time is that he's promoting Clinton, not himself. "It's a different kind of a debate for me because I have done debates where it's, at the end of it, 'Please vote for Tim Kaine,'" he said. "If I talk too much about Tim Kaine during my debate, I'm wasting my time."
What topics are likely to come up?
On the campaign trail, the two potential veeps usually focus on the top of the opposing ticket, and they'll likely spend much of the debate defending their running mate. As NBC News notes, for Kaine that means having a response ready on topics like Clinton's private email, the Clinton Foundation, and Benghazi — some of which Trump failed to bring up during last week's debate. And Pence has the thankless task of trying to clarify or soften Trump's position on everything from Alicia Machado to why he won't release his tax returns.
In recent days, however, Pence has lobbed some attacks at Kaine. At a rally in Virginia on Monday, Pence accused Kaine of trying to raise taxes by $4 billion as governor. "In Indiana, we're the crossroads of America, I actually signed into law $2.5 billion in roads and bridges and infrastructure for Indiana," Pence said. "He left the state $2 billion in the hole, I'm proud to say we've got the largest surplus in Indiana history, more than $2 billion in the bank."
Kaine is expected to hit back at Pence, noting that while he touts his economic record, when compared to the rest of the country on a number of economy factors, Indiana is just somewhere in the middle.
While social issues have not played a large issue in the campaign, Kaine will likely be asked about one significant difference with his running mate. While Clinton is very pro-choice, Kaine, who is Catholic, is personally against abortion. He opposes creating new restrictions on abortion access, but unlike Clinton, he is in favor of keeping the Hyde Amendment, which prevents federal money from funding abortions.
Pence will almost certainly be asked about two actions he took as governor that generated controversy nationwide. In 2015, Pence, an Evangelical Christian, signed the Religious Freedom Restoration Act, which allowed businesses to refuse service to LGBT people on religious grounds. Following accusations of discrimination and a backlash from business leaders, Pence and Republican state legislators modified to law to make it clear that businesses could not deny services.
The governor also suffered a blow on Monday over his refusal to let Syrian refugees settle in his state. Pence made the stand against President Obama last spring, along with about 30 mostly Republican governors, but now a federal-appeals court has ruled that his effort to withhold money for resettling Syrian refugees is discriminatory. The court said, per the Washington Post:
The governor of Indiana believes, though without evidence, that some of these persons were sent to Syria by ISIS to engage in terrorism and now wish to infiltrate the United States in order to commit terrorist acts here. No evidence of this belief has been presented, however; it is nightmare speculation.
And to make matter worse, one of the judges behind the decision is on Trump's list of potential Supreme Court nominees.
What's each candidate's goal in the debate?
"The challenge for both of them is to make absolutely no news," Michael B. Murphy, a former Indiana Republican state legislator, told The Wall Street Journal. "As the VP candidate, the last thing you want to do is draw attention away from your running mate and his or her agenda."
That may be true for Kaine, but Pence has a bigger task. The vice-presidential debate comes after one of Trump's worst weeks on the campaign trail, and Pence will likely try to downplay the recent controversies and play up the distrust voters have for Clinton. Trump tends to derail Pence's efforts to help, so the real test may be whether the candidate can get through a debate he's not participating in without generating a new controversy.