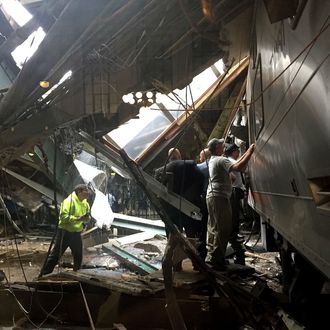 The aftermath.
Photo: Pancho Bernasconi/Getty Images
Investigators have few answers as to what caused Thursday's deadly train crash in Hoboken. Officials recovered the black-box recorder from the back of the train, but it was reportedly not working on the day of the derailment, rendering it useless to investigators. This recorder was built in 1995.
"That's quite an old event data recorder," said National Transportation Safety Board vice-chair Bella Dinh-Zarr. "Usually when they're not working, they're replaced."
This New Jersey Transit train also has a (slightly newer, from the 2000s) black-box recorder and camera in the front car, but investigators have not been able to reach it because of the mess of debris from the train slamming into Hoboken's Lackawanna station. According to WCBS 2, that recorder is stuck underneath a portion of the terminal's collapsed roof, and crews need to work carefully because of the severe structural damage. Dangerous levels of asbestos also forced investigators to halt cleanup on Friday, reports NBC News.
Federal law requires that all commuter and passenger trains have a functioning recorder in the front of the car, but it's unclear if New Jersey Transit has violated any laws by failing to replace the defunct recorder in the back, per the Asbury Park Press. But even before the Hoboken disaster, safety problems at New Jersey Transit had come under federal scrutiny. The Federal Railroad Administration confirmed that it had launched an audit of the commuter rail line in June, after safety violations and "a leadership vacuum" resulting from many high-level departures. The railroad administration did cite the transit agency for violations — though federal officials declined to give more detail — and were reportedly considering additional enforcement measures before the crash. The New York Times also reports that enforcement records show New Jersey Transit did pay fines for a series of breaches of safety violations:
New Jersey Transit agreed in June to pay $70,000 in penalties for 10 safety violations found by the administration, according to its 2015 enforcement report. Two of those fines were for violations of passenger equipment safety regulations, the report shows.

Reports covering the last three years show that New Jersey Transit agreed, from 2013 through 2015, to pay nearly $335,000 in penalties for 33 violations of federal safety regulations found by the railroad administration. Ten of those fines were for violations of passenger equipment safety regulations, the reports show.
The train that crashed — and the entire fleet of N.J. Transit's nearly 400 trains, and all of its tracks — also wasn't outfitted with positive train control, or PTC, a technology that forces a train to automatically brake when it's going too fast, or about to derail. The NTSB is investigating whether PTC, which the Federal Railroad Administration mandates all passenger trains install by 2018, would have prevented Thursday's crash.
The operator of the train also hasn't given investigators any clues to the crash so far. The engineer, 48-year-old Thomas Gallagher, told officials he has no memory of the accident. "He remembers waking up on the floor of the cab," Dinh-Zarr said Sunday. Gallagher, a 29-year transit veteran who qualified as an engineer in 2000, says he last remembers checking the speedometer, which showed him entering the station at ten miles per hour, which contradicts witnesses who say the train barreled into the station without slowing. He said he rang the train's horn and glanced at his watch and recalls that the train was about six minutes behind schedule. Gallagher also told investigators that he completed all the necessary safety and brake checks before departing that morning. He added that he was well-rested, and his phone was turned off in his back pocket.
Officials have not detected any signal problems on Track 5, where the train plowed through the terminal, or on any other tracks at the terminal. But New Jersey Transit remains suspended in and out of the normally busy Hoboken terminal as investigators try to piece together what went wrong Thursday.