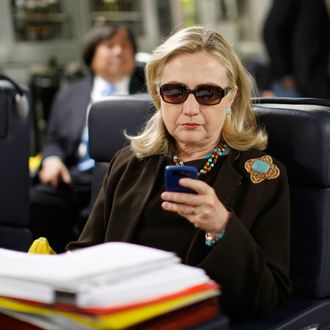 Emails obtained by the Republican National Committee show that members of the Obama administration, including one who went on to join Hillary Clinton's presidential campaign, communicated with each other and with one of Clinton's attorneys in early 2015 about the emerging controversy over her use of a private email server while secretary of State, The Wall Street Journal reveals.
The RNC obtained a number of White House and State Department emails through a Freedom of Information Act lawsuit to obtain records pertaining to Clinton's time in office, of which it shared a portion with the Journal.
The emails the RNC made public include one from March 12, 2015, in which White House communications director Jennifer Palmieri, who had already announced her intention to leave and work for the Clinton campaign, asked State Department spokeswoman Jennifer Psaki to try to ensure that Secretary of State John Kerry was not asked about the budding email scandal in an upcoming interview on CBS's Face the Nation.
John Kirby, the current State Department spokesman, said there was nothing unusual about this communication, as staffers there often coordinate with the White House in advance of potential interviews by officials.
In another email, Under Secretary of State for Management Patrick Kennedy told Heather Samuelson, one of Clinton's attorneys, that a Politico story reporting that a State Department official had testified to Congress that Clinton's record-keeping was unacceptable was "wildly inaccurate." Politico stood by the story.
Citing an expert on ethics and campaign finance, the Journal acknowledges that these emails are probably not evidence of any wrongdoing, as White House officials are allowed to engage in some political activity. But judging from their decision to release them, clearly the RNC is hoping that the public interprets them uncharitably.