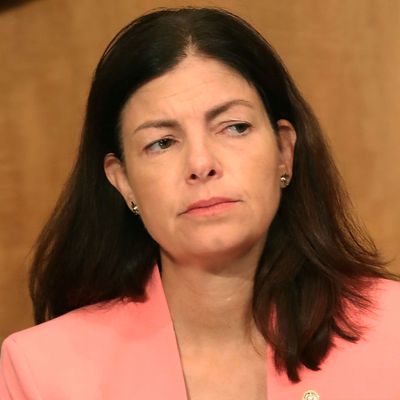 New Hampshire senator Kelly Ayotte.
Photo: Mark Wilson/Getty Images
The Trump campaign will not go quietly into that good night. For all the incoherent ravings that have spilled out from the mogul's gaffe-hole over the past seven days, he's made one thing perfectly clear: If he's going down, he's going down in flames.
And Republican Senate candidates are starting to feel the heat. Last week, FiveThirtyEight's Senate forecast gave Democrats a 56 percent chance of winning the upper chamber — today, that figure is 73 percent.
Before we dig into where and why the winds of electoral fortune have shifted, let's quickly review what needs to happen for Chuck Schumer to become Senate majority leader. Assuming Hillary Clinton wins — and Tim Kaine becomes the Senate's tie-breaking vote — Democrats need to gain four seats on November 8 to seize the majority. Republicans have already left two of their incumbents for dead — Mark Kirk in Illinois and Ron Johnson in Wisconsin.
Five other Republican seats are up for grabs, while just one Democratic seat is in contention. Thus, to take the Senate, Team Blue need to win three of those six races. Right now, FiveThirtyEight's model has the Democratic candidate favored — in some cases, by a thin margin — in five of them.
Over the past week, Democrats have made their biggest gains in New Hampshire, Nevada, and Missouri.
In the Granite State, Republican senator Kelly Ayotte had leveraged her name recognition and relative popularity into a small but sturdy lead over the state's Democratic governor, Maggie Hassan.
But Clinton leads New Hampshire by roughly seven points. Thus, Ayotte's advantage was always dependent on her ability to stay balanced on a tightrope between supporting Trump and disavowing him: Appear too supportive of the nominee, and she loses the backing of moderate ticket-splitters; appear too antagonistic, and she loses a large swath of her party's base.
For months, Ayotte was able to split the difference by saying she supported Trump, but didn't endorse him. But in recent weeks, this paradoxical position became impossible to sustain. At a debate with Hassan, Ayotte was asked if she considered her preferred presidential candidate to be a good "role model" for children. Ayotte stammered that she absolutely would.

The next day, she said she had "misspoke," and that of course she doesn't think America's children should look up to the person she backs for president. Then, Trump's "grab 'em by the pussy" tape forced Ayotte to break completely from the mogul.

Now, Ayotte may be finding herself in the worst of both worlds — her belated rejection of Trump looking less than inspiring to the reality star's detractors, but infuriating to his supporters.
On Thursday, a poll from WMUR and the University of New Hampshire put Hassan ahead of Ayotte by eight points. That was enough to move the race's polling average, per FiveThirtyEight, from a 1.6 percent advantage for Ayotte, to a 1.3 percent lead for Hassan.
Joe Heck, the GOP candidate for Harry Reid's seat in Nevada, has also fallen victim to the Trump-22. Clinton isn't quite as strong in Nevada as she is in New Hampshire, but Heck still needs to win anti-Trump votes to enter the upper chamber. And so, following the publication of Trump's 11-year-old boast about committing serial sexual assault, Heck announced his disavowal of the GOP nominee — and was instantly met with a chorus of boos.
That sentiment was reflected in the next round of polling. Per PPP:

Heck's disavowal of Donald Trump is hurting him in the race. 34% of voters say that makes them less likely to vote for Heck, compared to only 19% who say it makes them more likely to support him. Among Trump voters, 48% say Heck's statement makes them less likely to vote for him.

You can see the negative impact of Heck's new stance on Trump in his numbers among Republicans. In our tracking last week Heck was already under performing within his own party, winning only 76-13. This week he's fallen even further to having just a 70-15 advantage among voters of his own party.
In state's polling average, Democrat Catherine Cortez Masto has gained 3.2 percent on Heck in the past week, making the race a dead-tie.
The story in Missouri is much different. There, the Democrats' improving fortunes have less to do with Trump's toxicity than with the appeal of Team Blue's candidate. Secretary of State Jason Kander is young, handsome, an Afghanistan veteran, and, most importantly, capable of assembling an AR-15 while blindfolded.
Kander has positioned himself as a fresh-faced alternative to incumbent Republican Roy Blunt. In ads, Kanders has noted that Blunt is such a Washington insider, most of his immediate family members are lobbyists.
This appeal seems to have been effective. After trailing Blunt for months, Kander has gained four points in the last week to put himself on top in the race, by a single digit. And, according to the New York Times, both parties' internal polling shows Kander on top.

Democrats have made slimmer gains in North Carolina and Pennsylvania, while in Indiana, Democratic favorite son Evan Bayh has actually lost ground. Bayh is still the favorite in the Hoosier State, but one of his key strengths — his coziness with big-money donors — has become a key liability, as Republican congressman Todd Young has hammered Bayh for joining a lobbying firm after his last stint in the Senate.
Pat Toomey has navigated the Trump challenge better than most, by simply refusing to ever take a stance on the GOP nominee, one way or the other. The incumbent Republican has generally polled at least five points ahead of Trump in Pennsylvania. But, as Vox's Andrew Prokop notes, polling five points ahead of Trump may not be good enough, if the mogul's descent continues. At present, Democrat Katie McGinty is the slight favorite in the Keystone State.
Finally, in North Carolina, incumbent Republican Richard Burr retains an advantage over Democratic challenger Deborah Ross. But Ross is gaining ground. And early voting in the Tarheel State suggests Republican turnout may be down significantly from where it was in 2012.
Ultimately, turnout could be the decisive factor in all of these races. The central hope of every anxious GOP operative is that, eventually, Trump's collapse will actually redound to the benefit of down-ballot Republicans. The idea being that Americans will vote for a check on President Clinton, out of a misguided belief that divided government would produce compromise, instead of dysfunctional gridlock.
But it also seems possible that many would-be ticket-splitters will just decide to go straight home after work. If they do, Democrats will have a fighting chance of fulfilling their wildest down-ballot ambitions — evicting Marco Rubio from the Senate, and putting Nancy Pelosi in charge of the House.
If that happens, Trump will have done more to advance progressive change in the United States than most Democratic politicians ever could.