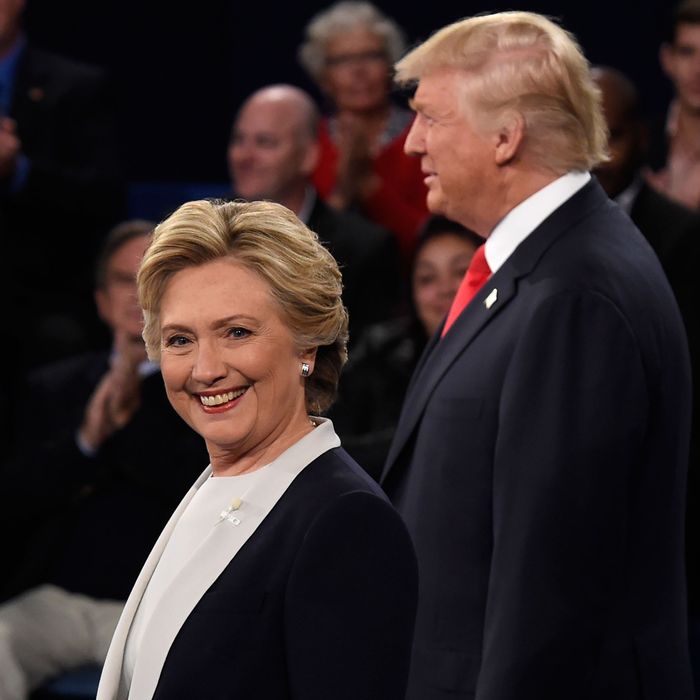 Photo: Saul Loeb/AFP/Getty Images
On Sunday night, the Republican presidential nominee was asked why he had bragged about committing sexual assault. Donald Trump dismissed such boasts as locker-room talk, promised to prosecute his chief political opponent, attacked Hillary Clinton for allegations of sexual violence made against her husband (despite the fact that numerous women have made such allegations against Trump himself), all while sniffling into his microphone 93 times.
Pundits broadly declared it a surprisingly strong performance.
Other, less subjective measures of viewer sentiment generally agree. But if all it took to win a contest was to outperform expectations, this bulldog would have won last year's X Games.
Most early metrics suggest that Clinton won the debate, but Trump beat the spread:
Polls
As of this writing, there have been two scientific "insta-polls" of the second presidential debate. Both show Clinton on top.
In YouGov's poll, Clinton won "undecideds" 44 to 41 percent. And Trump did not seem to improve his standing with college-educated women, as female voters thought Clinton won by 50 to 38 percent.
Notably, even as Trump only won 34 percent of CNN's poll of debate watchers, 63 percent said the GOP nominee did better than expected.
Focus Groups
By far, the most favorable metric for Trump was Frank Luntz's focus group. Apparently, undecided voters really like it when a candidate promises to jail his political opponents upon taking office.
Still, if the point of winning debates is to, eventually, win an election, even Luntz doubts that Trump helped himself much last night.
And CNN's focus group of uncommitted Ohio voters told a very different story.
The Stock Market
Per Reuters:
Another notable mover on currency markets was the Mexican peso MXN=D2, which at one point was up 2 percent at 18.91 to the dollar as Trump's chances of winning the White House seemed diminished after the second pre-election debate with Democratic Party candidate Hillary Clinton.

Trump has vowed to build a wall on the border with Mexico and renegotiate or scrap the North American Free Trade Agreement (NAFTA) if he is elected, making the peso somewhat of a barometer of his chances.
Betting Markets
Trump entered the debate with a roughly 19 percent chance of winning the presidency, according to odds on Betfair — his lowest standing since he became the Republican nominee.
But after Trump delivered a "non-tragic performance," in the words of Betfair spokesperson Barry Orr, the Republican nominee left St. Louis with a whopping 20 percent chance of taking the White House.
So, again: Trump may have improved his chances of becoming president Sunday night, in the same sense that a 40-year-old accountant who recovers from a broken arm has improved his chances of playing Major League Baseball.
Trump went into both "Tapegate" and the debate on pace to lose to Clinton by a decisive margin. Thus, pundits should probably grade last night's debate on the opposite curve of the one they employed: For Clinton, at this point in the race, a "non-tragic" performance may be as good as a win.