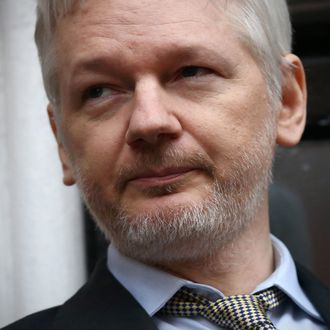 The face of WikiLeaks.
Photo: Carl Court/Getty Images
WikiLeaks has cancelled a much-anticipated announcement set for Tuesday, citing security concerns at the Ecuadorian embassy in London, where WikiLeaks founder Julian Assange lives under effective house arrest in order to avoid extradition over rape allegations.
The announcement was widely believed to be the long-promised reveal of leaked emails from the Democratic Party that Assange has said will be devastating for Hillary Clinton's campaign.
Before it was cancelled, Trump surrogate Roger Stone tweeted that — because of the announcement, apparently — Clinton would be "done" on Wednesday.
What exactly led to the announcement's cancellation remains unclear. Assange historically makes his major pronouncements from the embassy's balcony. It now appears that security concerns at the embassy have rendered his appearance impossible.
It looks like Assange will still appear in a video for a press conference in Berlin on Tuesday morning. It's unclear if he will take that opportunity to make his big reveal.
We're sure those with a fondness for conspiracy theories won't make too big a deal out of this.