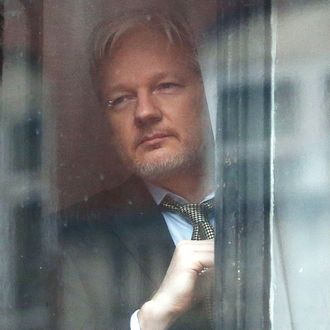 tfw you're waiting for the internet repair guy
Photo: Carl Court/Getty Images
WikiLeaks founder Julian Assange is having some connectivity issues. The leaks organization is in the midst of disseminating a cache of documents unflattering to the Democratic Party, but its internet keeps cutting out.
According to the organization, the Ecuadorian embassy is restricting Assange's internet access because Ecuadorian officials are Clinton stooges (Assange has been holed up at the embassy in London for four years, avoiding extradition to Sweden over rape allegations).
"We can confirm Ecuador cut off Assange's internet access Saturday, 5pm GMT, shortly after publication of Clinton's Goldman Sachs speechs," it tweeted on Monday.
WikiLeaks further claimed that "multiple US Sources" had conveyed that Secretary of State John Kerry had asked Ecuador to cut off Assange's internet access last month while in Colombia. The State Department promptly denied the claims.
Ecuadorian president Rafael Correa endorsed Clinton over Trump a few weeks ago, though WikiLeaks hasn't provided substantial proof that it is being choked off from the rest of the internet.