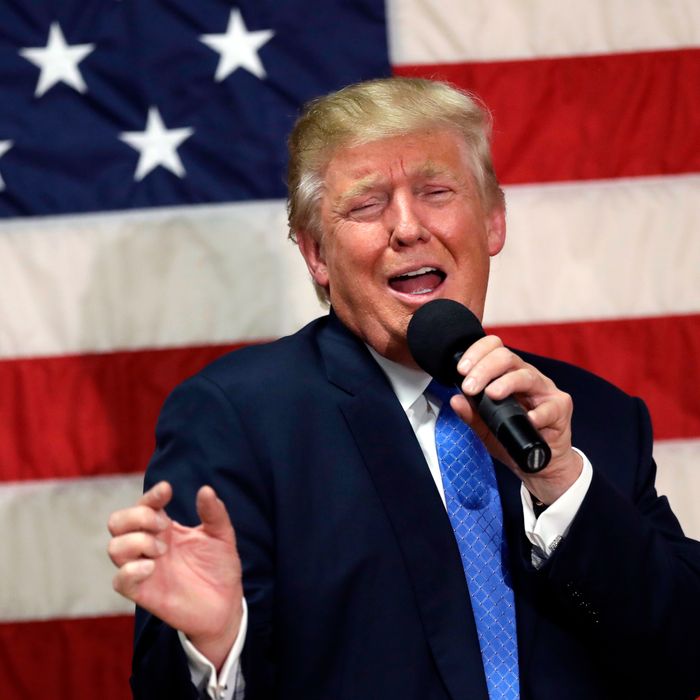 Primed to blow.
Photo: Robert F. Bukaty/AP
Amidst the worst crisis of his campaign, Donald Trump has indicated that if he has a plan for tonight's second presidential debate, it will probably be one for scorching the Earth. That is not to say that Trump has prepared for the debate in any traditional sense, or at all, but he seems primed to lash out following a brutal week that was capped off by the release of a 2005 recording in which Trump boasted of how he could sexually assault women because he was so famous. That scandal has led to numerous calls for Trump to quit the campaign from despondent Republicans, but Trump has remained defiant and vowed to stay in the race. Either way, Trump will be winging it in St. Louis like he has everything else in this campaign, and a lot of people will be tuning in to see if the candidate can somehow escape the spectacular trainwreck.
Regarding Trump's preparation, there has been next to none as with the first debate, though his campaign organized a town hall–style event on Thursday to help get the candidate comfortable with the tricky format of the second debate tonight. That practice run was pretty much a disaster, and he's unlikely to have had much time since then, as Friday and Saturday have been dominated by the Trump tape scandal. Then again, how much preparation Trump needs to just go nuclear isn't really clear, especially since the candidate's temperament is already so infamously volatile.
After Trump's terrible debate performance two weeks ago, he remarked that he thought his greatest achievement at that debate was that he did not bring up Bill Clinton's sex scandals as he had planned. He has since changed his mind about that, and sought to draw attention to the Clinton family's scandals as much as possible. That no one beyond Trump's insulated inner circle or right-wing media organizations seem to think it's a good idea has not deterred him from the strategy, and neither has the fact that most voters don't want to hear any more about Bill Clinton's affairs — which makes sense when you consider the other fact that Bill Clinton isn't running for president.

Nevertheless, at the end of Trump's videotaped response to the groping-remarks scandal, which was supposed to be a humble and contrite apology, Trump quickly tried to change the subject to the Clinton sex scandals and promised to spend the weekend calling more attention to them. The candidate had apparently been assured this was the appropriate thing to do, and didn't seem to realize that including the attack might discredit his apology, which is exactly what it did in the eyes of many observers.
Trump surrogates like Sean Hannity have also tried to shift the outrage to Bill Clinton's already well-known marital difficulties, which is an interesting strategy considering Trump also bragged about trying to sleep with a married woman in the 2005 tape that emerged on Friday.
On Saturday, while Team Trump was in crisis mode, some of the only interactions Trump had with the outside world were to twice retweet a woman, Juanita Broaddrick, who has accused Bill Clinton of raping her. On Sunday, Trump twice tweeted out Breitbart interviews with Broaddrick as well. So even before Trump had nothing left to lose, he was already set to use Bill Clinton's sex scandals against Hillary at the second debate, and after this weekend's developments, he's now certain to make it the central focus of his approach. Though, Trump may also mix in some new attacks on his old foe, the GOP Establishment, now that so many elected officials have abandoned him, and he's already started ridiculing them for doing so. The dominance-obsessed Trump has rarely missed an opportunity to strike back at anyone, and the hits have kept coming from all sides throughout the weekend.
Trump's supporters and brain trust seem to be egging him on. Trump bragged on Saturday of how many calls he got from friends and well-wishers urging him to keep going. And according to the Washington Post, some of Trump's advisors thought that he never should have apologized for his 2005 groping remarks in the first place, but just gone into full ignore-and-attack mode instead. Also according to the Post, former advisor Michael Caputo said that he told Trump that the only way to survive the campaign's current crisis would be "to immediately make an issue of former president Bill Clinton's womanizing past and 'allegations of sexual crimes.'" Added Caputo, "In order to blunt this really bad story — and make no mistake, this is DEFCON One — they need to pull the Clintons into the same mire where Clinton has dumped him, because in fact they do exist there. They've got to go nuclear. That's all they have left."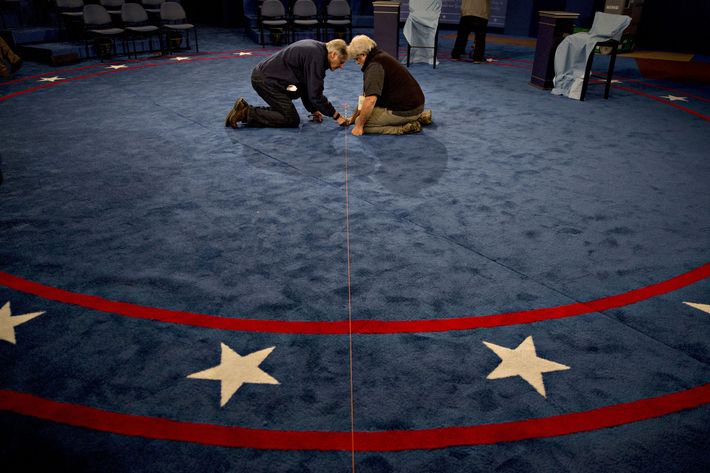 Since Hillary Clinton prepares for debates, she has surely practiced responding to attacks over her husband's sex life, as well as the likelihood of Trump going full scorched-earth. Unsurprisingly, Politico reports that Clinton plans to address Trump's 2005 groping remarks at the debate, and that her campaign has specifically held back with regards to the scandal so that the Democratic nominee can give her first response to the scandal in front of Sunday night's massive prime-time audience. In addition, prior to Trump's tape scandal, the Clinton campaign was undoubtedly ready to make the most of last week's news that Trump may not have paid federal-income taxes for almost two decades, and there remain plenty of other ways to turn the tables on Trump as Clinton was able to do in the first debate. As Buzzfeed News' Ruby Cramer points out, Clinton loves opposition research, and in that regard, Trump is the probably the most valuable natural resource in American political history.

However, both Politico and the Post also report that Clinton campaign's strategy is for Clinton to try and remain focused on the audience members in the town hall–style debate, rather than get dragged into a dirty back-and-forth with Trump; though, they understand that anything is possible when the opponent is a wounded animal like Trump is now. The campaign had hoped to use the debate to let Clinton show her human side with the audience, but between the latest Trump scandal, the GOP's sudden distancing from their nominee, and Friday's WikiLeaks dump of Clinton's previously unreleased Wall Street speeches, the debate may not go as anyone had planned.
No matter what, no presidential candidate has probably ever been under as much pressure as Trump is heading into Sunday night's debate, and whether he explodes in anger or implodes in defeat, something is certain to blow in St. Louis.