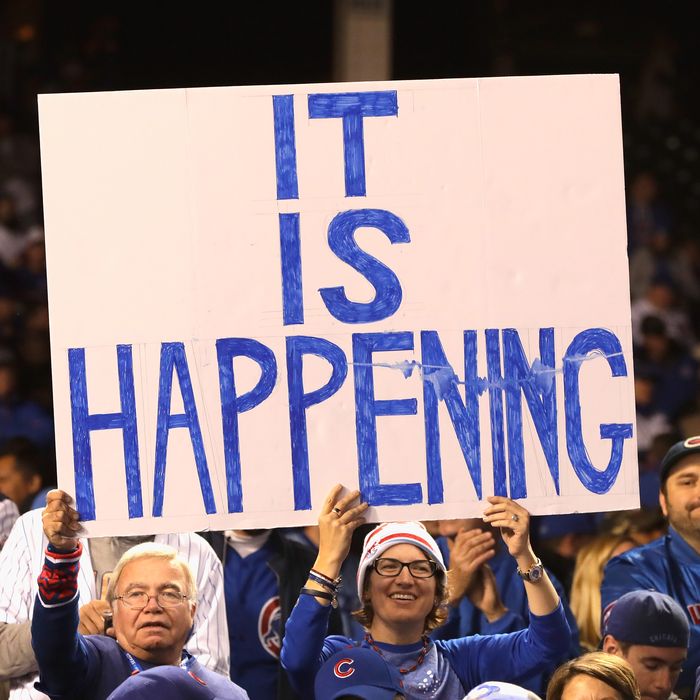 Yeah, it is. Maybe.
Photo: Jamie Squire/Getty Images
The Chicago Cubs shut out the Los Angeles Dodgers on Saturday night to take the National League pennant and advance to baseball's World Series for the first time since 1945, and even more important, give them a chance to win their first World Series since 1908. To do that, they'll need to defeat the Cleveland Indians, who themselves haven't won a championship since 1948, and last made it to World Series in 1997. Thus, while the Indians have the advantage of having more — or any — living fans that still remember their last World Series victory, barring the end of the world, one team's multigenerational anguish is guaranteed to end within the next two weeks. And some Cubs fans might actually be worried about the world ending beforehand, given the team's legendary, if absurdly superstitious, anxiety about luck. (Don't worry, though, barring a spectacular run of rainouts, Election Day doesn't happen until after the series is certain to be over.)
So the two teams with the two longest championship droughts in baseball will face off starting Tuesday night in Cleveland, hoping either to end 107 or 67 years of futility, or to maintain the inglorious honor of having the most despondent fans in the sport.
But for now, let's just live vicariously through Cubs fans, who this weekend are feeling a desperate, momentary joy like few sports fans will ever get to experience (and for what it's worth, the Cubs are the favorites to win it all):