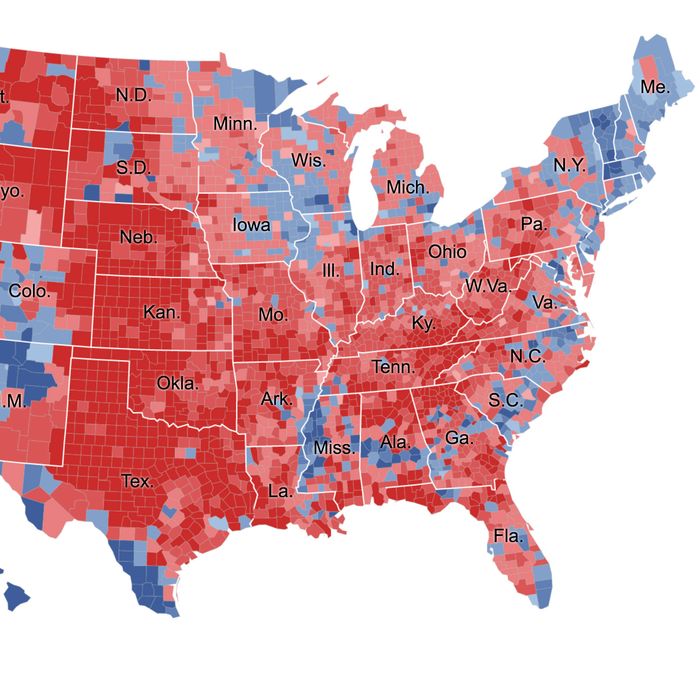 That "sea of red" is deceptive.
Photo: New York Times
A lot of Democrats have been feeling a definite sense of 2000 déjà vu since November 8.
In a deep dive into the 2016 presidential election returns, however, Ron Brownstein hears the distant echo of another presidential election — one dominated by a traditionalist reaction to changing times: 1920.
This election … carved a divide between cities and non-metropolitan areas as stark as American politics has produced since the years just before and after 1920. That year marked a turning point: It was the first time the Census recorded that more people lived in urban than non-urban areas. That tangible sense of shifting influence triggered a series of political and social conflicts between big cities teeming with immigrants, many of them Catholic, and small towns and rural communities that remained far more homogeneously, white, native-born, and Protestant.

In an extended tussle over the country's direction, forces grounded outside of the largest cities overcame urban resistance to impose Prohibition in 1919 and severely limit new immigration in 1924. The same fear of "a chaotically pluralistic society," as one historian put it, fueled a resurgence of religious fundamentalism and a revival of the Ku Klux Klan.
But the urbanization trend that so divided Americans in 1920 has now largely triumphed. So the latest reaction to the latest era of cultural and economic change is not nearly as powerful. In 1920, Warren Harding defeated James Cox by the largest popular-vote percentage margin (26 percent) since Monroe's Era of Good Feelings. In 2016 the candidate of nativism, protectionism, and cultural reaction lost the popular vote.
In a twist of irony, though, urbanization has left incredible large swaths of the country behind, and in this election at least, in the camp of resistance to change. As Brownstein points out, Hillary Clinton appears to have won no more than 420 of the nation's 3,100 counties (her husband won more than 1,500 20 years ago). "Her" counties include 88 of the nation's 100 largest. But looking at a map of "red" and "blue" counties, it looks like Donald Trump's country with a few strips and islands of some alien incursion.
If square mileage could vote (and it sort of can via the Senate, the Electoral College, and the various powers of state governments), the presidential election would have been even more lopsided than the one in 1920. As it is, a plurality of Americans look out across the heartland and see wonderful places to visit — in many cases to visit the hometowns of their own pasts — but not to live in and vote.