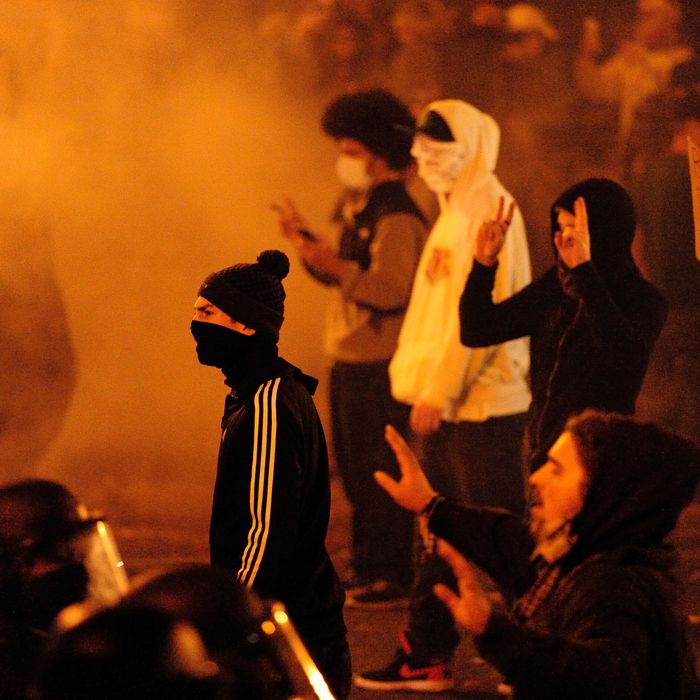 Photo: Alex Milan Tracy/Sipa via AP
The streets of downtown Portland have swelled with protesters each night since Donald Trump won the presidential election on Tuesday, and on occasion the protests have turned violent. That's led to 112 arrests in the last week and a review of state election records by a local news station shows that more than a third of those arrested didn't even vote.
KGW compiled a list of the 112 people arrested by the Portland Police Bureau during recent protests. Those names and ages, provided by police, were then compared to state voter logs by Multnomah County Elections officials.

Records show 39 of the protesters arrested were registered in the state but didn't return a ballot for the November 8 election. Thirty-six of the demonstrators taken into custody weren't registered to vote in Oregon.

Of the 36 voters who weren't registered, most gave an Oregon address as their official place of residence, making it unlikely that they voted in another state.
Not turning up to vote and then taking to the streets to protest the result of the election is a tough position to defend, but one man tried to. "I did not (vote) and the reason why is because we know that the Electoral College is really what matters the most," Kevin Grigsby told Portland's KGW-TV.
He's not wrong. With or without the votes of the protesters, Hillary Clinton was going to win Oregon's seven electoral votes. She received 192,000 more votes than Donald Trump in the state.
Before you come down too hard on these arrested protestors, it's worth noting that even with a third of them not voting, that's still a hell of a lot better than the U.S. as a whole, where more than 43 percent of adults of voting age didn't turn out.