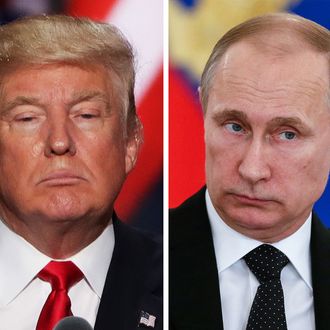 Best buddies in the making.
Photo: Alex Wong/Getty Images; Sergei Ilnitsky/AFP/Getty Images
Throughout the U.S. presidential campaign, it's been clear that the Donald Trump–Vladimir Putin friendship was meant to be. Last year, Putin called Trump a "really brilliant and talented person," and state-run media made it clear that the Russian president was pulling for the mogul. Trump, in turn, called Putin a stronger leader than President Obama, and invited Russia to keep meddling in the U.S. election.
Yet somehow, Trump and Putin had (allegedly) never even spoken! The pair remedied the situation on Monday, when Putin called to chat with the president-elect (he was already the first world leader to send him a congratulatory telegram). According to a statement from Trump's office, they discussed "a range of issues including the threats and challenges facing the United States and Russia, strategic economic issues and the historical U.S.-Russia relationship that dates back over 200 years."
They also agreed "on the absolutely unsatisfactory state of bilateral relations," and said they would both like to work "to normalize relations and pursue constructive cooperation on the broadest possible range of issues."
The Kremlin released a brief statement as well, which recapped Putin's goals for relations with the U.S., including "a return to pragmatic, mutually beneficial cooperation."
It's not quite George W. Bush looking Putin in the eye and getting "a sense of his soul," but we're sure that's coming.