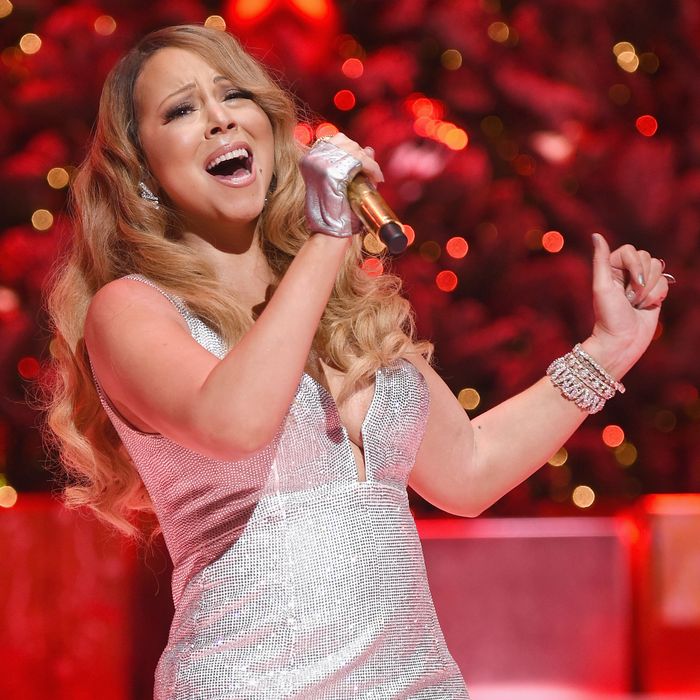 Photo: Dimitrios Kambouris/Getty Images
Every year, the YouTube video for the smash hit off of Carey's 1994 Merry Christmas (though, if you ask me, "Jesus, Oh What a Wonderful Child" is the much better track from that album) sees an uptick in views, but only during the holiday season. Which is still technically a month away, but that doesn't seem to be stopping people from getting in a festive mood, as pointed out on Twitter by Lyft product designer Zach Cole.
Now that we've kissed David S. Pumpkins good-bye, it's time for us all to move on to the next important celebration and the spokesperson who comes with it. If you guessed Election Day, or Thanksgiving, or trampling your granny for a slightly cheaper juicer at Target on Black Friday, you'd be wrong. No, we've now entered into the beginning of the most festive, most magical, most Auto-Tuned time of the year: "All I Want for Christmas Is You" season.
In case you're not quite ready to don a sweater and hear this 22-year-old song played at least six times at every party you attend (that number only increases the drunker your friends get), here's a tip: Until you are ready, watch the unedited version of Carey's live performance at Rockefeller Center in 2014 instead. It is the exact opposite of festive.