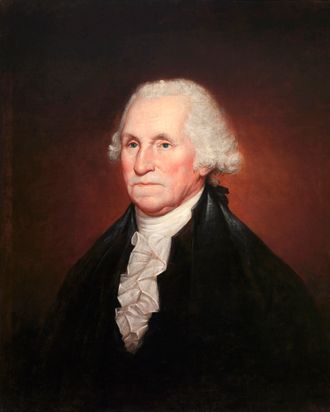 George Washington warned of this.
Photo: Fine Art/Corbis via Getty Images
"To see what is in front of one's nose is a constant struggle," George Orwell famously observed. So what is it that we have just seen?
We are witnessing the power of a massive populist movement that has now upended the two most stable democracies in the world — and thrown both countries into a completely unknown future. In Britain, where the polls did not pick up the latent support for withdrawal from the European Union, a new prime minister is now navigating a new social contract with the indigenous middle and working classes forged by fear of immigration and globalization. In the U.S., the movement — built on anti-political politics, economic disruption, and anti-immigration fears — had something else, far more lethal, in its bag of tricks: a supremely talented demagogue who created an authoritarian cult with unapologetically neo-fascist rhetoric. Britain is reeling toward a slow economic slide. America has now jumped off a constitutional cliff. It will never be the same country again. Like Brexit, this changes the core nature of this country permanently.
This is now Trump's America. He controls everything from here on forward. He has won this campaign in such a decisive fashion that he owes no one anything. He has destroyed the GOP and remade it in his image. He has humiliated the elites and the elite media. He has embarrassed every pollster and naysayer. He has avenged Obama. And in the coming weeks, Trump will not likely be content to bask in vindication. He will seek unforgiving revenge on those who dared to oppose him. The party apparatus will be remade in his image. The House and Senate will fail to resist anything he proposes — and those who speak up will be primaried into oblivion. The Supreme Court may well be shifted to the far right for more than a generation to come — with this massive victory, he can pick a new Supreme Court justice who will make Antonin Scalia seem like a milquetoast. He will have a docile, fawning Congress for at least four years. We will not have an administration so much as a court.
Almost certainly, as in Britain, the left, already radicalized, will respond by moving ever farther left, leaving the now openly revanchist right — far more radical than the Tory government in Britain — with total control over the levers of power. They will not let those levers go easily. They will likely build a propaganda machine more powerful than Fox and Breitbart — and generate pseudo-stories and big lies that, absent any authoritative or trusted media, will dominate the new centers of information, Facebook or its successors. We will be in a new political and media universe in which an authoritarian cult will thrive. This is how fascists tend to govern.
The only sliver of hope is that his promises cannot be kept. He cannot bring millions of jobs back if he triggers a trade war. He cannot build a massive new wall across the entire southern border and get Mexico to pay for it. He cannot deport millions of illegal immigrants, without massive new funding from Congress and major civil unrest. He cannot "destroy ISIS"; his very election will empower it in ways its leaders could not possibly have hoped for. He cannot both cut taxes on the rich, fund a massive new infrastructure program, boost military spending, protect entitlements, and not tip the U.S. into levels of debt even Paul Krugman might blanch at. At some point, a few timid souls in the GOP may mention the concepts of individual liberty or due process or small government or balanced budgets. At some point even his supporters may worry or balk, and his support may fade.
But hope fades in turn when you realize how absolute and total his support clearly is. His support is not like that of a democratic leader but of a cult leader fused with the idea of the nation. If he fails, as he will, he will blame others, as he always does. And his cult followers will take their cue from him and no one else. "In Trump We Trust," as his acolyte Ann Coulter titled her new book. And so there will have to be scapegoats — media institutions, the Fed, the "global conspiracy" of bankers and Davos muckety-mucks he previewed in his rankly anti-Semitic closing ad, rival politicians whom he will demolish by new names of abuse, foreign countries and leaders who do not cooperate, and doubtless civilians who will be targeted by his ranks of followers and demonized from the bully pulpit itself. The man has no impulse control and massive reserves of vengeance and hatred. In time, as his failures mount, the campaigns of vilification will therefore intensify. They will have to.
And then there will be a terror attack — or several, as he defines the global battle against terror as one against an entire religion and breathes new life into Al Qaeda and ISIS. What he does after such an attack is utterly predictable, given his past statements, and will likely decimate what civil liberties we have left. Then there will be a clash between police and largely black protestors after another unarmed black man is shot. And he will relish a show of massive police force that will inflame this country in ways probably not seen since the 1960s. Then he will reinstate Guantánamo and capture prisoners and torture them until the truth he wants is extracted. That truth will be used to further advance the "war against Islam." He will make every Muslim American feel afraid — and foment suspicion and hatred among their neighbors. Every single thing we have come to know about this man all but predicts each of these things will come about. All of them portend the end of the America that the world has long known and now must fear.
I see no way to stop this at first, but some of us will have to try. And what we must seek to preserve are the core institutions that he may threaten — the courts, first of all, even if he shifts the Supreme Court to an unprecedentedly authoritarian-friendly one. Then the laws governing the rules of war, so that war crimes do not define America as their disavowal once did. Then the free press, which he will do all he can to intimidate and, if possible, bankrupt. Then the institutions he will have to destroy to achieve what he wants — an independent Department of Justice as one critical bulwark, what's left of the FBI that will not be an instrument of his reign of revenge, our scientific institutions, and what's left of free thought in our colleges and universities. We will need to march peacefully on the streets to face down the massive intimidation he will at times present to a truly free and open society. We have to hold our heads up high as we defend the values of the old republic, even as it crumbles into authoritarian dust. We must be prepared for nonviolent civil disobedience. We must transcend racial and religious division in a movement of resistance that is as diverse and as open as the new president's will be uniform and closed.
And, impossible though it may be, we will have to resist partisanship. The only way back to a free society, to a country where no one need fear the president's wrath or impulses, is to unwind the factionalism that has helped destroy this country. We have to forge a new coalition on right and left to resist fascism's reach and cultic power. In a country which just elected and re-elected a black president — whose grace feels now almost painful to recall — it is surely possible.
I will leave you with these words about what has now happened to America. Someone saw it coming a long time ago:
The alternate domination of one faction over another, sharpened by the spirit of revenge, natural to party dissension, which in different ages and countries has perpetrated the most horrid enormities, is itself a frightful despotism. But this leads at length to a more formal and permanent despotism. The disorders and miseries, which result, gradually incline the minds of men to seek security and repose in the absolute power of an individual; and sooner or later the chief of some prevailing faction, more able or more fortunate than his competitors, turns this disposition to the purposes of his own elevation, on the ruins of Public Liberty.

That was George Washington's Farewell Address.
A country designed to resist tyranny has now embraced it. A constitution designed to prevent democracy taking over everything has now succumbed to it. A country once defined by self-government has openly, clearly, enthusiastically delivered its fate into the hands of one man to do as he sees fit. After 240 years, an idea that once inspired the world has finally repealed itself. We the people did it.