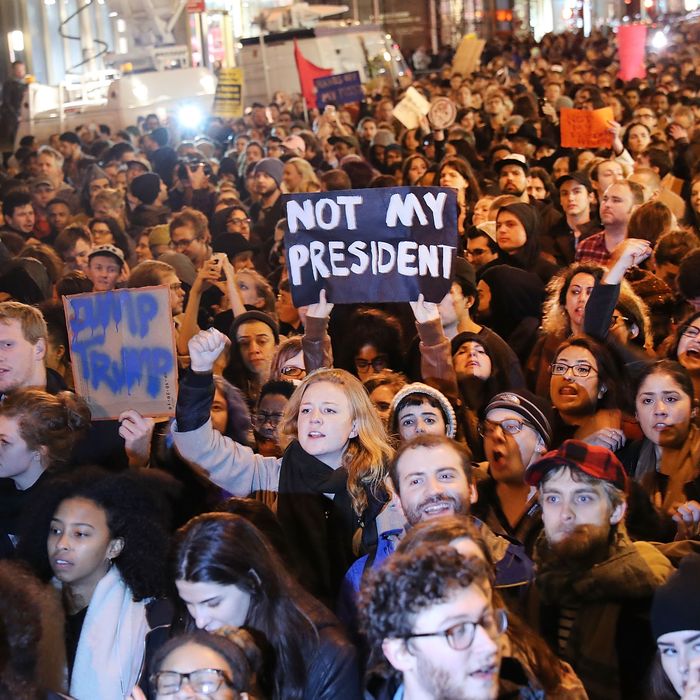 Streets of rage.
Photo: Spencer Platt/Getty Images
American cities from coast to coast erupted in protest following the news that Donald Trump had been elected president of the United States. Thousands have taken to the streets, and in many places they show no sign of giving up anytime soon.
Here's a look at what happened across the country.
After a lackluster start, thousands converged on Trump Tower on Wednesday evening. Protestors gathered in Union Square at 6 p.m. and their ranks steadily grew as they moved uptown.
Protestors remained peaceful, but played drums, shouted slogans, and carried signs in support of women and America's trans, immigrant, Muslim, and LGBT communities, as well as its communities of color — all groups which Trump is widely seen as being opposed to.
Crowds managed to shut down Fifth Avenue as police helicopters kept watch overhead.
Lady Gaga even joined the crowd at Trump Tower, wearing a T-shirt spray-painted with the phrase "Love Trumps Hate."
Protests entered their second night in Oakland on Wednesday. About 250 people began marching through Downtown Oakland on Tuesday night and the crowd quickly swelled to more than 3,000.
Some protestors vandalized local businesses. One woman was reported injured after being hit by a car when protestors tried to stop traffic on Highway 24. Police say the driver tried to pull over and help, but her car was set upon by protestors and her back window was broken.
Multiple fires were also set along Telegraph Avenue, one of Oakland's major thoroughfares, but the unrest had mostly subsided by early Wednesday morning.
On Wednesday night, protestors were back on the street en masse, with thousands joining the demonstration and venting their frustration and rage.
There have been reports that police have started using tear gas on protestors.
Thousands of protestors gathered in Chicago on Wednesday night, blocking the entrance of Trump Tower — yes, they have one, too — before marching downtown and blocking traffic on the city's storied Lakeshore Drive.
Angry protestors chanted "No Trump, No KKK, No Fascists USA" as they crowded onto Michigan Avenue, managing at one point to block all six lanes of the road.
There was tension between police and protestors — one officer reportedly wore a large pro-Trump button on his hat — but the clashes were only verbal.
Hundreds turned out to march through Philadelphia, and ABC reported that their chants of "Enough! Enough!" could be heard blocks away.
Protestors met at City Hall at 7 p.m. before marching through the cold, rainy night for hours across the downtown area.
Police were out in force, but have said that there were no arrests during the peaceful demonstration. One of the protestors who spoke to ABC said, "To see the number of people who won't stand for it, it gives you a sense of security in a very turbulent time."
Students from the University of Pennsylvania also took to the streets in a separate solidarity march, and around 500 students attended anti-Trump events on campus.
Crowds of more than 4,000 descended on the Parkman Bandstand on Boston Common before marching through downtown to City Hall.
Despite the size of the rally, Boston police have said it was peaceful and no arrests were made.
A smaller protest of about 150 students at the University of Texas at Austin swelled to more than 500 by the evening's end, when crowds of marchers made their way through town to city hall.
Protestors shut down traffic as they went, and while many carried effigies and piñatas of Trump, they remained peaceful.
In Washington, D.C., what began as a vigil at the White House turned into a march as crowds of people made their way to the Trump International Hotel. There they chanted slogans — "No racist USA! No Trump! No KKK!" — and in at least one instance lit a flag on fire. Someone also threw paint onto one of the hotel's windows.
Earlier in the day, another group of protestors burned a flag on the campus of American University.
Several thousand people took part in a march through downtown Seattle on Wednesday night, chanting anti-Trump slogans and shutting down traffic as they went.
The march kicked off with a speech from Seattle councilmember Kshama Sawant, who called on the marchers to also attend the presidential inauguration in January and shut it down.
Though many police lined the streets, the protest remained peaceful. One protestor, speaking to the local NBC affiliate, said: "We don't want to bring hate with more hate. We want to bring love. We want to unite. We want to bring peace here."
A mass shooting near the march earlier in the evening turned out not to be related to the protests or election at all.
In Portland, hundreds of protesters marched through the city before successfully shutting down the interstate. Activists disrupted rush-hour traffic across downtown and even managed to disrupt some trains during the nightly commute.
The protests were mostly peaceful, with scattered reports of vandalism, small fires, and fireworks. Unlike other cities where protests took place, the march in Portland was marked by a relatively light police presence.
Similar protests took place the night before in Portland and elsewhere in the state.
On Wednesday, San Francisco entered its second night of protests; hundreds showed up to a march organized by the Act Now to Stop War and End Racism (ANSWER) Coalition, but their numbers swelled to the thousands as the march progressed through the city.
In Berkeley High School in neighboring Berkeley, 1,500 students — half of the entire student body — walked out of class in the morning in protest.
More than 1,000 angry citizens gathered on the steps of Los Angeles' City Hall on Wednesday to vent their rage and burn a giant papier-mâché Donald Trump head in effigy before also blocking traffic on some of the city's infamously busy streets.
Later, thousands came out, and what began as a relatively quiet affair quickly grew more raucous, with huge crowds surging onto the freeway and even shutting down the 101, a vital artery in Los Angeles.
Wednesday's protests followed other large-scale actions from the night before, when more than 2,000 people gathered on UCLA's campus around midnight as it became clear that Trump would take the White House.
Elsewhere, 30 Trump supporters gathered around Trump's star on the Walk of Fame in a jubilant counter-demonstration.
Still, there have been no reports of violence.