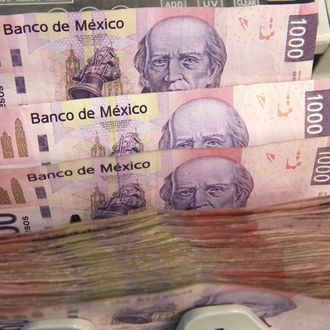 Photo: Susana Gonzalez/Bloomberg via Getty Images
The value of Mexico's currency, which has risen and fallen right alongside Hillary Clinton's chances of winning the presidency, dipped once again this morning in the wake of an ABC/Washington Post poll that put Donald Trump ahead in the race for the presidency. The poll showed a 1-point lead for Trump among likely voters, the first time he's led since late May.
The peso responded to the news by dropping from 18.8 pesos to the U.S. dollar to 18.9 — a small move, but a familiar sight for those who have watched the currency during the campaign. Each time something positive happens for Trump, peso buyers get scared. When he does poorly, it improves.
In mid-September, when Clinton had to leave the trail after getting sick with pneumonia— and collapsing at a 9/11 memorial event — the peso dropped to 20 to the dollar, an all-time low.