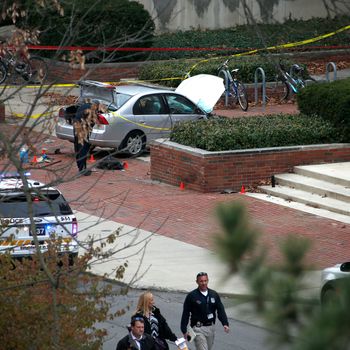 Police investigate the scene where an individual used a car to crash into a group of students outside of Watts Hall on the Ohio State University campus on November 28, 2016 in Columbus, Ohio.
Photo: Kirk Irwin/Getty Images
One suspect was fatally shot by police after an attack at Ohio State University on Monday morning that injured at least eleven people and forced the entire campus on lockdown.
The bloody incident unfolded shortly before 10 a.m., when a male suspect reportedly jumped a curb and sped his car into a crowd near Watts Hall, an academic building that houses the departments for material sciences and engineering. The suspect reportedly hit some people with his vehicle, and then jumped out of the car, brandishing a large butcher knife. He began trying to cut people in the crowd, according to university officials.
Despite initial reports of an active shooter on the OSU campus, police have found no evidence that the suspect had a gun. Instead, reports of gunshots likely trace back to law-enforcement officials, who fired on and killed the suspect.
At least eleven people were taken to the hospital — many suffering from stab and slash wounds — but all are expected to survive. Some patients have already been treated and released.
The suspect has reportedly been identified as Abdul Razak Ali Artan, an 18-year-old OSU student who was a Somali refugee and a U.S. green-card holder. According to NBC News, Artan came to the U.S. with his family in 2014. Police now believe he was the only person who perpetrated the attack. Officials were reportedly seeking possible additional assailants; witnesses reported seeing at least two people being led away in handcuffs by police from a parking garage. Officials confirmed that report, but said those individuals were taken away as a precaution as police secured the area. They have been ruled out as suspects at this time.
Officials are not ruling out the possibility of a terror-inspired "lone wolf" attack. "This was done on purpose," said OSU Police Chief Craig Stone.
University officials first alerted students to reports of an active shooter around 10 a.m., advising students to "Run Hide Fight."
Ohio State University officials lifted the shelter-in-place order around 11:30 a.m., though one portion of the campus remains closed to students. All Monday classes have been canceled.
Police and bomb-squad units swarmed the university after the lockdown order Students at OSU — a huge public university of about 65,000 — posted pictures on social media of barricaded classrooms, and alerted friends and family that they were safe.
FBI and ATF agents are reportedly helping with the ongoing investigation, and President Barack Obama has been briefed. President-elect Donald Trump responded on Facebook, saying "our thoughts and prayers are with all of the students and administration." He also thanked the first-responders.
This post has been updated throughout.