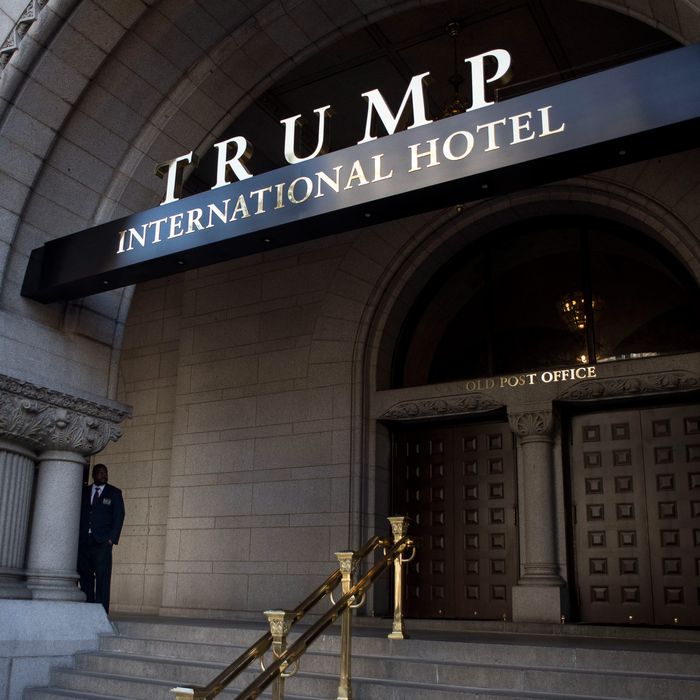 Let the bribery begin.
Photo: Gabriella Demczuk/Getty Images
Next month, Bahrain — an oil kingdom known for its friendliness with the U.S. government and serial human-rights abuses — will celebrate the "seventeenth anniversary of King Hamad bin Isa Al Khalifa's ascension to the throne" by giving a lot of money to the next American president.
That's according to an invitation from Bahrain's embassy, obtained by Politico, which indicates that the nation has booked Donald Trump's D.C. hotel for a lunch reception on December 7. That booking will, ostensibly, allow the kingdom to directly enrich the president-elect's business.
If the payment is processed after Donald Trump is inaugurated, it would put him in violation of the Emoluments Clause of the Constitution — which prohibits officeholders from receiving gifts or payments from foreign governments — according to George W. Bush's former ethics lawyer Richard Painter. (Some legal scholars have disputed Painter's interpretation of the clause.)
But punishing Trump for that violation will likely require a rival D.C. hotel to sue the leader of the free world, a proposition that offers a low reward (gaining competitive parity in the "foreign diplomats in D.C. on business" market) in exchange for a high risk (when you come at the kleptocrat, you best not miss).
The best mechanism for enforcing the Emoluments Clause would be impeachment, but the Republican Congress has little appetite to censure its president verbally, let alone legally.
And since the president is exempt from conflict-of-interest laws, Trump isn't worrying too much about how the favors of foreign governments could cloud his policy judgement. During the campaign, he vowed to place his assets into what he referred to as a "blind trust," but is actually an entity that would allow him perfect knowledge of the assets he holds — and that would be managed by his children, whom he then appointed to his transition team. He has since invited the manager of his "blind trust" into closed-door meetings with the leaders of foreign nations.
Bahrain is far from the only government who is interpreting all this as a green light for thinly veiled bribery. After Trump's nomination, Filipino president Rodrigo Duterte named Trump's business partner Jose Antonio as a special envoy to the United States.

And earlier this month, roughly 100 foreign diplomats sipped Trump-brand champagne while taking in a sales pitch at the Trump International D.C. Following the presentation, one anonymous Asian diplomat told the Washington Post, "Why wouldn't I stay at his hotel blocks from the White House, so I can tell the new president, 'I love your new hotel!' Isn't it rude to come to his city and say, 'I am staying at your competitor?'"
The state of the kleptocracy is strong.