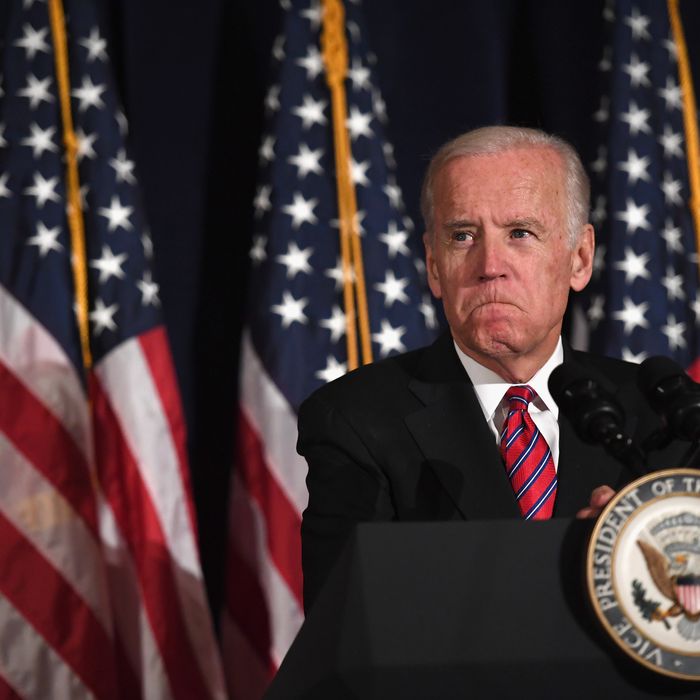 Sorry, guys.
Photo: Shahar Azran/WireImage
While the election of a new Democratic National Committee chair in March is shaping up to be a battle over the direction of the party, in recent days some argued that it doesn't have to be that way. In a Washington Post op-ed published Tuesday, Nelson W. Cunningham — an adviser to the Clinton campaign who has worked with Joe Biden, Bill Clinton, and John Kerry — said there is another option:
There is a consensus choice, right under our noses, who could unite the party across its broad spectrum, who could speak to coastal elites and heartland stalwarts, whose popularity across all the Democratic demographics is sky-high.

There is Joe Biden.
Or not. A few hours later, the vice-president quashed calls to have him lead the Democrats under the Trump administration. "The vice president is not interested in being DNC chair, but he intends to remain deeply involved in helping shape the direction of the Democratic Party moving forward," said his spokeswoman, Kate Bedingfield.
A few days after the election, it looked like Democrats had already settled on a fresh face to lead the party: Congressman Keith Ellison. Ellison was one of the first members of Congress to endorse Bernie Sanders for president, and with the Vermont senator rallying support for the Minnesota representative, he quickly picked up endorsements from Senator Elizabeth Warren, outgoing Senate Minority Leader Harry Reid, and his likely successor, Senator Chuck Schumer.
But last week, some began expressing doubts about Ellison, saying that while they think highly of him, it may be smarter to select someone who can work full-time as party chair. Representative Debbie Wasserman Schultz stepped down from the position in July after emails hacked by WikiLeaks showed her criticizing Sanders, but she was a controversial figure even before that. As Politico reported last weekend:
Wasserman Schultz drew criticism in party circles for how she handled the two demanding roles, and Democrats privately grumbled that she sought to leverage her position as party chairman to give her congressional donors plum spots at DNC fundraisers with President Barack Obama and solicited DNC donors for contributions to her campaign.
Two other top contenders for the job, former Vermont governor Howard Dean and South Carolina Democratic Party chairman Jaime Harrison, said they would make the DNC their primary focus.
Sanders dismissed the criticism, saying plenty of previous DNC chairs have been full-time public officials. "I don't believe it was being raised when Debbie took the job. And I think this is just a way for Keith's opponents — I mean, the usual line is, 'We love Keith, he's great, but,' and that's the 'but.' So I think this is a way for his opponents to try to criticize him and end up supporting somebody else," he said.
Indeed, it's likely the concerns about Ellison had less to do with his time commitments than with the attempt to move the party to the left, which Ellison represents. As New York's Ed Kilgore put it, "Ellison's candidacy looks a lot like a continuation of Bernie Sanders's presidential campaign, combined with a house-cleaning aimed at removing Clinton supporters, scornfully dismissed as corporate shills."
Democrats close to President Obama aren't thrilled about that prospect, and now they're looking for an alternative to Ellison. The New York Times reported on Tuesday that some in Obama's circle had hoped that Biden would take the job, but other prospects include Labor Secretary Tom Perez and former governor Jennifer Granholm of Michigan. In the last week, Perez was spotted meeting with Biden, Obama senior adviser Valerie Jarrett, and David Simas, Obama's political director.
Others have reservations about Ellison that have nothing to do with rehashing the Sanders-Clinton primary fight. Ellison, who is Muslim, defended Nation of Islam leader Louis Farrakhan in the '90s and has been critical of Israel. Jonathan Greenblatt, the head of the Anti-Defamation League, said Ellison is "an important ally in the fight against anti-Semitism" but he's taken positions on the Israeli-Palestinian conflict "on which we strongly differ and that concern us."
In light of that controversy, some believe Perez, who is the son of Dominican immigrants, may be a better foil to the Trump administration. Sources say he's interested — and he'll be looking for a job soon.