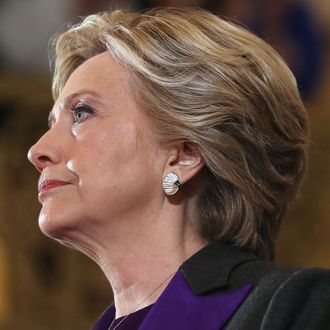 Photo: Justin Sullivan/Getty Images
Donald Trump is going to be the next president of the United States. Even typing that sentence makes me feel like I'm living in a weird dream, and despite comforting words about the give-and-take of democracy from Barack Obama this afternoon, today has been pretty dark.
In the coming days and months there will be plenty of need for action (if you're ready to get started now, here's a good list of organizations that need your help), but today feels more like a day for organized moping. It's more than understandable if nothing seems funny to you right now. Frankly, not much is. But it's nice, where possible, to share a grim laugh with the millions of other people feeling demolished today. And for that, despite everything else, Twitter is pretty good.