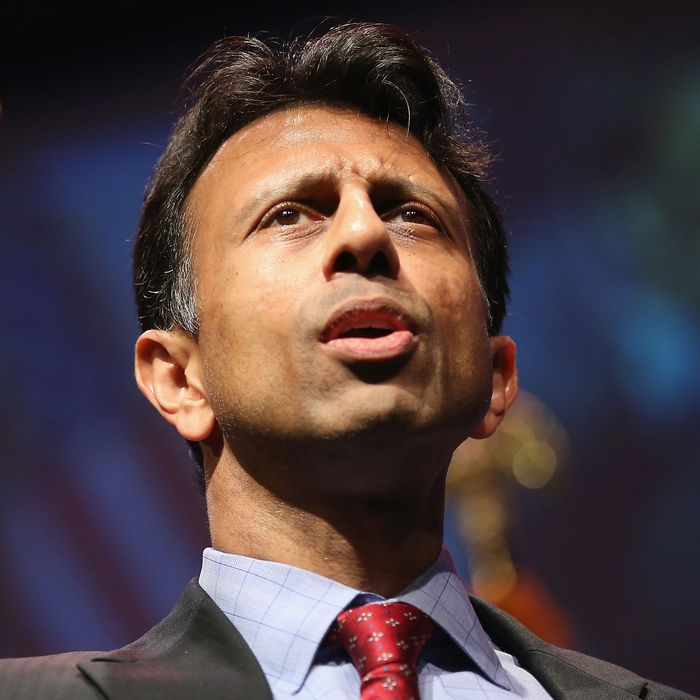 Once considered the smartest man in every room, Bobby Jindal ruined his own reputation along with his state.
Photo: Scott Olson/Getty Images
It has not gotten as much attention as the speculation about who's going to be Donald Trump's attorney general or secretary of State or Defense secretary. But given strong Republican interest in gutting Obamacare, dumping Medicaid on the states via a block grant, and significantly reducing funding for low-income programs, Trump probably needs someone credible in the position of secretary of Health and Human Services.
The name heard most often in connection with HHS immediately after Trump's election has been one that makes a lot of sense from a pure résumé point of view, but not a lot of sense at all if you look at the man's most recent escapades: former congressperson and Louisiana governor Bobby Jindal.
All you probably need to hear if you are focused on precocious talent and direct experience with the job requirements is that Jindal was appointed to run Louisiana's Department of Health and Hospitals at the age of 24, and at 27 he headed a national commission on the future of Medicare. After a brief stint as a university president, Jindal became assistant secretary of HHS in the George W. Bush administration at the age of 29 — a position he resigned from to run unsuccessfully for governor. He took a detour into Congress for three years before being elected and reelected governor.
But Jindal is sort of like one of those Hollywood child stars who don't age too well. During his second term as governor, he fixed his sights on the obvious next step to his career, the presidency, and that ambition led him to ruin Louisiana (others use the terms "wrecked" or "destroyed," or even "broke," but it's the same idea). Obsessed with becoming the preferred candidate of "movement" conservatives, Jindal's agenda became whatever he thought conservatives in Iowa and inside the Beltway wanted. Most notoriously, he refused to go along with local Republican efforts to get rid of corporate tax concessions because ideological commissar Grover Norquist of Americans for Tax Reform would consider the initiative a tax increase. His efforts to get rid of the state income tax failed, but the tax reductions he did secure left the state in a deep fiscal hole. His grandstanding efforts to move funds from public schools to private-school vouchers (many going to conservative Evangelical schools) and to privatize hospitals serving low-income patients did not help Louisiana's already-struggling public services — or his image away from the presidential campaign trail, where he spent most of his time.
By the time a new governor was being chosen for Louisiana in the autumn of 2015, Jindal was at war with his designated Republican successor and with Republican legislators, and had wretched approval ratings with the public. Louisianans were basically fine with him staying out of state, but to make sure he had no residual influence in Baton Rouge, they took the rare step of electing a Democratic governor — four days after Jindal dropped out of the presidential race after failing to qualify for the presidential debates.
So if Jindal does become secretary of HHS, he probably should designate someone else to deal with Louisiana. But what makes that prospect most amazing is not Jindal's crashing and burning as governor, but some of the things he said before departing the presidential race.
Having failed to gain traction in the presidential race as an "ideas" candidate or as a Christian-right favorite, one of Jindal's final ploys was to become the candidate not afraid to attack Donald Trump. After bashing him regularly for a while, Jindal really cut loose in a National Press Club speech in September of 2015:
[T]he governor bashed Trump for being an "egomaniacal madman" and jabbed at him for declining to name a favorite Bible verse in an August interview after saying it was his favorite book.

"You may have recently seen that after Trump said the Bible is his favorite book, he couldn't name a single Bible verse or passage that meant something to him," Jindal said. "And we all know why, because it's all just a show, and he hasn't ever read the Bible. But you know why he hasn't read the Bible? Because he's not in it."
He was just getting warmed up. He called Trump a "non-serious carnival act," a "very weak and small person," an "unserious and unstable narcissist," and someone who "could destroy America's chance to be Great Again."
To no one's great surprise, after Trump won the presidential nomination, Jindal turned around and endorsed the mogul, but went out of his way to express his continuing low regard:
"I think electing Donald Trump would be the second-worst thing we could do this November, better only than electing Hillary Clinton to serve as the third term for the Obama administration's radical policies," he said. "I am not pretending that Mr. Trump has suddenly become a conservative champion or even a reliable Republican: He is completely unpredictable. The problem is that Hillary is predictably liberal."
In other words, Jindal took the safe route of endorsing his party's nominee but positioned himself to say "I told you so" when Trump lost.
So if Trump does turn to Jindal to serve in his cabinet, we will know two things. The first is that he cynically regards what everybody said during the nominating contest to be nothing but street theater. The second is that he's happy placing a conservative ideologue with a destructive streak in a position astride the nation's Health and Human Services programs.
Who knows what Trump will do? The latest HHS speculation revolves around a predictable congressional warhorse who was an early Trump supporter, Tom Price of Georgia.
I am not a fan of Bobby Jindal, to put it mildly. But you have to half hope he is Trump's choice for some lofty position. That would be one lively confirmation hearing!