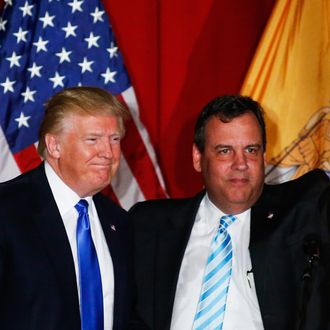 Photo: Eduardo Munoz Alvarez/AFP/Getty Images
New Jersey governor Chris Christie is reportedly no longer taking a weekend trip to New Hampshire to campaign for GOP presidential candidate Donald Trump. The cancellations in the battleground state come less than a day after two of his former allies were convicted in the Bridgegate scandal. Christie was not charged in the plot, and he, once again, denied involvement in the political scheme after the verdict came down Friday — though, revelations from the trial indicate otherwise. Either way, it's not the best look for a surrogate of a candidate whose top campaign theme revolves around locking up his political rival.
Christie is leading Trump's transition team — with the help of the governor's close associates — and appears to still have his job. Trump campaign manager Kellyanne Conway told CNN Friday that Trump and Christie hadn't talked after the verdict. "All of our personnel remains the same," she said.

Democrats on Friday did call on Christie to step down, including Clinton campaign chair John Podesta. Two of Christie's "top aides today were just convicted of corruption for political intimidation," Podesta said. "So rather than just crisscrossing the country and hopscotching and talking about cleaning up the swamp, [Trump] might start by draining his own swamp and asking Mr. Christie to resign as the head of his transition."
Trump himself has remained pretty quiet on the Bridgegate court saga, telling Fox News in an interview last week that he had "great confidence" in Christie while also admitting that he had "not been following the trial." But during the GOP primaries, before Christie became Trump's hostage, Trump declared that Christie "totally knew."